1. Announcements
Welcome to a new year, a new semester, and another challenging semester of persevering! As a reminder, we are pivoting back to in-person instruction beginning on Monday, February 14. You can find helpful information for faculty/staff here. Remember to confirm your boosted status, buy a one-day or semester-long parking pass, and have your Duo-authenticating device with you when you go to teach.
Please remind students that face masks are required indoors and recommended outdoors. Cloth face masks are no longer recommended; the campus now recommends non-cloth face masks (surgical, KN94-95-N95) indoors and highly recommends them  outdoors (faculty and staff, as state employees, are required to wear non-cloth face masks, surgical, KN94 or better masks). Please encourage students to visit this student-centered return to campus site.
If you have any questions or concerns about teaching please feel free to reach out.
2. Reminder
If you haven't already, please do send your syllabi, office hour information, and (if applicable) updated contact information to Wendy Ventura as soon as possible.
3. Opportunities/Events
Professor Kim Young has organized and invites us all to attend an exciting event: a virtual reading from our own alum, award-winning poet I. S. Jones, to  celebrate the publication of her collection, Spells of My Name, on Thursday, February 10 at 2pm PST. Zoom ID: 890 9162 5653 / Passcode 596309.
From Dr. JC Lee: Dr. Gavin Hurley, a Rhetorician specializing in the Rhetorics of Horror, will be joining us on Friday, Feb. 18th at 4PM, via zoom, to give a talk on the Rhetoric of Horror titled, "The Rhetoric of Horror: Style, Silence, and Suspense." Please announce this to your students, who can RSVP through this google form in order to receive the zoom login information. If you have questions, feel free to contact JC Lee at Jennifer.c.lee@csun.edu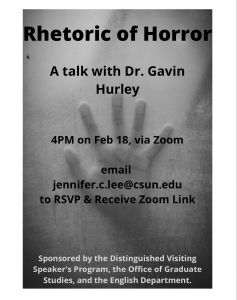 Stephanie Lim is serving as dramaturg for a local production of the recently passed Steven Sondheim's Assassins. Previews begin February 17, and performances run February 20 to March 20, with more information here. BOGO discount for previews: bogoCULTURE; 10% discount for after previews: 10CULTURE
4. Achievements
Joseph Gallaso's research on the Acquisition of Possessives has been cited in the upcoming edition of Oxford Bibliographies in Linguistics: Essential Readings, edited by Elena Babatsouli (2022). 
I. S. Jones (BA, CSUN, 2014), published her volume of poetry, Spells of My Name, in November 2021. Please see the above to attend a reading!
Stephanie Lim (BA, CSUN, 2011; MA, CSUN, 2015), is serving as dramaturg on East West Players' production of Stephen Sondheim's Assassins, which (some may remember) was originally halted in 2020 due to the pandemic. Assassins explores the national fixation on celebrity and its violent intersection with the American Dream, spanning the history between the assassination of Pres. Lincoln to the attempt on Pres. Reagan. Featuring an all-BIPOC company, this is the first LA production of a Sondheim musical since his recent passing in November. Please see the above opportunity to attend the event
From retirement, George Uba extends a very warm hello and sincere wishes for a healthy and productive 2022 to his friends and colleagues in the English Department. He has had two poems, "Still Life in Denial" and "Teaching Puritanism at the Millennium" published in the Winter 2022 issue of the Michigan Quarterly Review and one poem, "Animals Living in Solitude," published in the Fall 2021 issue of the Atlanta Review after having being named a finalist in that journal's 2021 International Poetry Contest.
His 1986 article "Malady and Motive: Medical History and 'The Fall of the House of Usher'" was recently reprinted in Edgar Allan Poe as Amateur Psychologist (NY: Peter Lang, 2021), Brett Zimmerman, editor. The article originally appeared in the South Atlantic Quarterly, Volume 85, No.1.
George's book Water Thicker Than Blood: A Memoir of a Post-Internment Childhood is in final production stages for a May 2022 publication by Temple University Press.
Congratulations to all!
5. In memoriam
We mourn our beloved colleague Harry Stone, who passed away in December 2021. We share here an excerpt of a remembrance from our esteemed colleague, John Clendenning:
Internationally acclaimed scholar, authority on Charles Dickens, and long-time member of the CSUN English Department, Harry Stone has died.  He was 95.
Though born in New York City, Harry grew up, was educated, and spent most of his life in Los Angeles.  Having graduated from Fairfax High School he entered UCLA where he earned three degrees: B.A., 1946; M.A., 1950; and Ph.D., 1955.   After teaching for five years at Northwestern University, he joined the Department of English at San Fernando Valley State College (now California State University, Northridge) in 1960.  By this time Harry was already a nationally recognized Dickens scholar.  Despite the heavy four-course teaching load, he continued to publish dozens of articles and reviews and authored or edited nine books on Dickens.  Among these are Dickens and the Invisible World(1979), Dickens' Working Notes for His Novels (1987), and The Night Side of Dickens (1994). His research was supported by grants and fellowships from the Guggenheim Foundation (1969-69) the Nations Endowment for the Humanities (1975-76), and American Council of Learned Societies (1970).
In the early years of SFVSC Harry worked tirelessly as a member of the Library Committee to build up our collection in British Literature.  By spotting bargains he helped to make our library premier among small colleges, capable of supporting advanced research in this field.  Throughout his career, as a member of the Department Graduate Committee, he helped to create and teach seminars and to direct dozens of masters' theses.[ . . .] Harry was also a passionate collector.  As a teenager he began to collect Dickensian memorabilia.  The collection grew over the years, so that at the time of his retirement in 1992 it had grown to nearly two thousand items.  This is one of the world's largest and richest collections of its kind.  Now Harry's legacy will live on:  the entire collection has been bequeathed to the University Library. (Dean of the University Library, Mark Stover, shared this article detailing the bequest from the LA Times)