CaHPSA Movie Night: "The Waiting Room"
04/22/12
To learn more about "The Waiting Room", click
here!

This Tuesday, April 24
th
, come join the California Health Professional Student Alliance for a
FREE
showing of the documentary, "The Waiting Room." This film looks at many of the issues facing hospitals today. It will examine how an American public hospital struggles to take care of its largely uninsured patients, and how both patients and staff cope with disease, bureaucracy and difficult choices. The film will bring together the stories of several patients and hospital staff members as they attempt to work through the complexities of the nation's healthcare system during the national recession. Come and witness the story of the struggles of this hospital and its community as they come together to deal with our common vulnerability to illness.


The event will take place Tuesday, April 24th, from 7-9 PM in Chaparral Hall 5122.
________________________________________________________
This article was authored by Phi Delta Epsilon Technology Committee Chair, Ram Wolman. If you would like to contact Ram, you can reach him at ram.wolman.834@my.csun.edu.
Your Lunch Can Kill You
11/12/10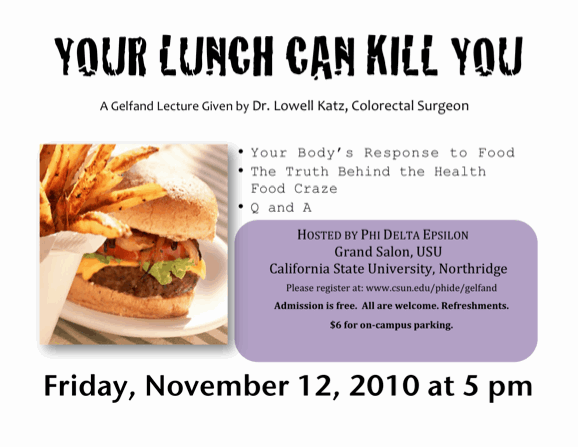 This is a big year for the CA Theta chapter - we are holding the Gelfand Lecture at CSUN, with the PhiDE International Board Foundation Treasurer and founder of our nation's first hospice, Dr. Lowell Katz. Colorectal surgeon Dr. Katz will speak about the body's reaction to food during different times of the day and expel some of the health food craze myths. The primary goals of this lectureship are to promote the highest scientific and educational standards in the practice of medicine, to promote the discussion of current social and economic issues related to medicine, and to promote the art and humanity of medicine. Admission to the lecture is free - all you have to do is
sign up
.
The lecture will be held at California State University Northridge in the Grand Salon, USU (18111 Nordhoff St Northridge CA 91330) on Friday November 12th at 5pm. Registered guests should arrive 20 minutes early for check-in.
Think Like a Doctor
10/26/10
Today was our professional event with very special guest speaker Dr. Soldinger, Phi Delta Epsilon's International President. For anyone who missed it, here is a recap of the questions and answers:
Questions
1. What is your occupation?
2. Why are you a doctor?
3. What school did you go to and how many years have you been in the field?
4. What's your specialty?
5. What's your favorite memory?
6. How do you balance work and family time?
7. Would you become a doctor all over again knowing what you know now?
8. What's the most difficult part of being a doctor?
9. What other career ideas did you have other than medicine?
10. What is your dream practice?
Answers
1. I am a psychiatrist.
2. I was interested in psychology in college and decided to become a psych major at UCLA. At first I thought I was going to go into ob/gyn or be an internist but didn't really enjoy those fields so then I looked into neurology. I liked doing PET scans and MRI scans but I wanted something more people oriented so I decided to go with Psychiatry.
3. I graduated from UCLA and UCI medical school, did internship at USC and residency at UCLA. I've also been in private practice in Sherman Oaks since 1983 and have written books, consulted celebrities and have taught private practice.
4. My specialty is Psychiatry.
5. My favorite memory as a doctor is when I helped a celebrity because it's an awesome feeling to help someone that's in the public eye and knowing that I did that, I helped him.
6. I try to go to family events and to football games for fun but it's hard to balance everything out. After screwing up so many times and saying lots of "I'm sorrys", eventually you just find a natural balance between work and family that works for you.
7. I would definitely become a doctor all over again knowing what I know now.
8. The most difficult parts about being a doctor are the patients, doctors, and colleagues that are against you and being a doctor you're a target and being sued is very common.
9. A couple other career plans I had was becoming a politician or going to Australia to produce tv shows.
10. I'm living it! My practice is perfect because it combines PhiDE, education, fun, people, and so much more.
CHLA Tour: Group 1
09/29/10
The Children's Hospital of LA tour has been set for Group 1 this Sunday October 3, 2010 from 12pm-1pm. Group 1 consists of Andrew, Jorge, Robbie, Dany, Bianca, Ezequiel, Jeff, Roxie, and Casey. We will all meet in the G3 parking lot at 10:15am to arrange carpool. We have a limited amount of parking passes, possibly 5.
In this tour we will be visiting:
-The blood donation center
-The Burtie Green Bettingen Surgery Center
-The John Stauffer Lobby & The Joyce and Stanley Black and Family Healing and Meditation Gardens
-The Newborn and Infant Critical Care Unit
-The Division of Rehabilitative Medicine
-The Spiritual Care Services
Please make sure to wear your PhiDE shirts as we may be able to take a group pictures and pass some cards out that were made last semester! To ensure your spot or if you are incapable of going this Sunday please email Yasmin by this FRIDAY OCTOBER 1ST. There will also be a Group 2 tour which is TBA.
Billboard S.O.S.
09/04/10
Dany needs help moving the billboard tomorrow, September 5th 10-12pm. If you missed the last meeting this would be a great time to gain back a point. He just needs 1-3 more people to help out. Give him a call if you're available. If you do decide to help, you'll be meeting up somewhere in the campus science buildings. Give Dany a call or send him a text for more details (he is without internet access for the time being).
CHLA Tour *Updated*
09/01/10
Thanks to Yasmin, we were able to arrange a tour with the Children's Hospital of Los Angeles. However, we need an exact head count of who is going before we can confirm the tour. The tentative date is Saturday, September 4th from 9am-10am. Please contact Andrew before 11:59pm on August 22 to reserve your spot and give us a proper count of participating members. It's a fantastic tour and the work they do at the hospital is very inspiring. Hope to see everyone there.

Update: The tour has been postponed, with a new tentative date of either October 2nd or 9th. Let Andrew know if you are available to go at these times - he will announce a finalized date as soon as possible.
New Class Rotation System
08/12/10
Our sitting Secretary, Dany, is currently working on an exciting new project - to improve the current buddy system that is used for incoming members. The current plan is to move away from the Phi, Delta and Epsilon system into a more hands-on rotation of new members around the PhiDE committees. For more details you can download the word document from the member
database
, which outlines the current plan. Dany is looking for feedback on this preliminary system, so be sure to let him know what you think! And as this new system is still in its preliminary stages, it is subject to change.
Coroner's Office Tour
06/21/10
This Friday, June 25th PhiDE is going on a tour of the Coroner's Office. We will all be meeting at the CSUN - G3 outside parking lot around 12:15pm and departing at 12:30pm. The tour starts at 1:30pm which should last between an hour to an hour and a half. Need or can provide transportation? Let Yasmin know.