Project Director

Merav Efrat

, EdD, MPH, IBCLC

Dr.  Merav Efrat  is an assistant professor in the Department of Health Sciences at Cal State University Northridge.  She services as the Project Director of this HSI funded education grant, "Advancing Professional Competencies of Graduate Nutrition Students in the Area of Lactation Education." She obtained her Doctorate in Education from the University of Southern California, Master in Public Health from Cal State University Northridge and Bachelors in Psychology from the University of California, Santa Cruz.  She has 10 years of professional work experience as a health educator and International Board Certified Lactation Consultant.  Her research focuses on developing and evaluating interventions that reduce childhood obesity, particularly among disadvantaged communities.  Specifically, in an attempt to prevent childhood obesity, she is interested in examining the efficacy of interventions that can be used to promote physical activity among elementary school-age children, as well as to promote six months exclusive breastfeeding rates. 
Marilyn Magaram Center for Food Science, Nutrition, and Dietetics
Claudia Fajardo-Lira, PhD
Claudia Fajardo-Lira is a Professor of Food Science and Nutrition in the Department of Family Consumer Sciences at California State University Northridge. She is a member of the Food Science Communicators Committee for the Institute of Food Technologists and has served on the Executive Committee for the Southern California Section. She is the Chair of the Advisory Board of the Marilyn Magaram Center for Food Science, Nutrition and Dietetics at CSUN. She earned a M.S. and Ph.D. in Food Science from Purdue University. Dr. Fajardo-Lira is originally from Mexico City, where she received her B.S. in Food Science and Nutrition. She has had publications in journals such as Journal of Food Science Education, Nutrition and Cancer, Journal of the American Dietetic Association, and Journal of Dairy Science. Current research areas are: education in food science, sustainability, and issues of food production and consumption related to health, environment and society.
Institue of Community Health and Wellbeing

Dianne Philobosian, PhD
Dr. Dianne Philibosian, Director of the Institute for Community Health and Wellbeing, has been an administrator and faculty member at California State University, Northridge for over 35 years. She has served as associate dean of the College of Health and Human Development, Coordinator of the Interdisciplinary Program in Child Development, and as a faculty member in the Departments of Elementary Education, Communication Studies, Child Development, and Recreation and Tourism Management. 
She brings an interdisciplinary focus to her work not only on campus but to her active involvement in community non-profit organizations and in governance of public agencies.  She currently serves as a Regent, and former chair of the board, of the University of the Pacific and previously has been a board member of Mission Community Hospital, Child Care Information Service, Mothers' Club Family Learning Center, Arroyo Seco Foundation, Pasadena Playhouse, and Caltech Children's Center.  In the public sector, she has served on the State of California Child Development Policy Advisory Committee, the County of Los Angeles Child Care Planning Committee, Pasadena Partnership for Children, and the City of Los Angeles Mayor's Advisory Board for Child Care.  She has consulted extensively with organizations, such as Wellpoint and Boston Scientific, throughout the nation and internationally with Japan and Mexico on a variety of topics from organizational and human development to designing curricula and facilities. 
Her work as Director of the Institute for Community Health and Wellbeing is focused on promoting collaborations between the campus and community organizations to strengthen individuals and communities through creative partnerships and education in response to regional needs.
David Boyns, PhD
Dr. David Boyns is a Professor in the Department of Sociology at California State University at Northridge. He studies general social theory, the sociology of emotions, cultural sociology, and the sociology of education. He has published on such topics as sociological theory, the emotional dynamics of the self, the ritual dynamics of online interaction, social construction processes in virtual communities, the sociology of deviance, and the sociology of education. He has over fifteen years of experience in the evaluation of educational policy and survey research methods. His current research investigates the emotions and the dynamics and the self, the human-technology interface, the sociology of education, and the sociology of wellness and creativity. Dr. Boyns is currently the Chair of the CSUN Institutional Review Board (IRB), is the Research and Evaluation Consultant for the CSUN Institute for Community Health and Wellbeing, and is a member and Research Consultant for the CSUN Autism Affinity Group.
Student Collaborators
Rebecca Abrams
Rebecca Abrams is a second year graduate student working towards her Master of Science degree in Nutrition & Dietetics at CSUN's Department of Family & Consumer Science. Rebecca has always had a passion for nutrition and health and majored in Nutrition and Dietetics at New York University. At NYU, Rebecca completed the DPD program and worked under some of New York's top dietitians doing nutritional analysis and diet planning.

After graduating with a Bachelor of Science degree in 2011, Rebecca worked for two years before returning to California to further her nutrition education at CSUN.

At CSUN Rebecca has taken several different nutrition electives, among them Lactation Education, for which she developed a passion. Rebecca is working to combine her knowledge of maternal nutrition and lactation by working as a Lactation Educator to provide local support to pregnant low-income women in the community. She plans on becoming an International Board Certified Lactation Consultant. Rebecca is expected to graduate in Spring 2015.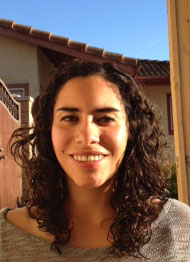 Esmeralda Galaviz
Esmeralda Galaviz, BA, MS in progress. Miss Galaviz received her BA in Political Science from UCLA. She is currently working on her MS in Nutrition, Dietetics/DPD from CSUN. Her interests lie in addressing the nutritional needs of disadvantaged communities in an aim to prevent diseases such as obesity and diabetes. She is fluent in English and Spanish. She volunteers for the Healthy Schools Project under the Ventura Unified School District where she helps nutrition educators  teach students (ages 9-13)how to cook easy and nutritious meals. This experience continues to reinforce her goal of becoming a Registered Dietitian. She loves to swim and run on her spare time.
Jocceline Hernandez
Jocceline Hernandez is currently completing the Community Nutrition Dietetic Internship and completing the Master's of Science program in Nutrition at the California State University, Northridge. Jocceline has participated in various projects and grants at CSUN while completing the Didactic Program and Dietetics (DPD) and earning her Bachelor's of Science in 2011. Jocceline has participated in grants and projects that focus on nutrition education for underserved communities in the San Fernando Valley. She has also worked as a Lactation and Nutrition Educator to postpartum mothers at Providence Holy Cross Medical Center. Upon becoming a Registered Dietitian and completing her Masters program, she will continue her education by becoming an International Board Certified Lactation Consultant.
Carolina Herrera
Carolina Herrera is currently a Community Dietetic Intern and first year Nutrition and Dietetics graduate student at the California State University, Northridge (CSUN). Carolina has participated in various projects, grants, and programs that focus on underrepresented communities in the San Fernando Valley. As a Peer Nutrition Counselor/Lactation Educator, Carolina was able to work closely with Lactation Counselors in the clinical setting to provide mothers with crucial nutrition and breastfeeding information. As part of her Dietetic Internship at CSUN, Carolina works at a Women, Infants, and Children (WIC) as a nutrition educator. There she educates expecting and recent mothers on the benefits of breastfeeding. Carolina intends to complete her Dietetic Internship and graduate program to become a Registered Dietitian and begin to provide much needed bilingual nutrition education and support to mothers, expecting mothers, and the underserved communities of the San Fernando Valley.
Ali Hemyeri
Ali Hemyeri completed his CSUN undergraduate degree in Business Administration, with an emphasis in marketing, and is currently pursuing his master's degree in sociology, with an emphasis on research methods, here at CSUN. Before returning to pursue a master's degree, Ali was employed at two highly reputable market research firms where he worked on several custom research studies for several well-known Fortune 500 companies across various business categories. Ali will be developing marketing and social media outreach for the Institute and will also focus on some special projects that deal with the following areas: financial literacy, nutrition, autism and veterans' health. Ali is in the beginning stages of his thesis and is expected to graduate in fall 2014.

Christopher Lawrence
Christopher Lawrence is a graduate student in his second year of the Sociology Master of Arts program at CSUN where he focuses on the changing state of higher learning and its effect on student expectations of the college experience. Before enrolling in the program, he earned his Bachelor of Arts in Creative Writing with a minor in Marketing from San Francisco State University and subsequently worked as a journalist in the Santa Clarita Valley. At the Institute for Community Health and Wellbeing, he coordinates projects revolving around autism and community-building. He is expected to graduate in Fall 2014, following the completion of his thesis.
Patricia Rodriguez
Patricia Rodriguez is a first year graduate student in CSUN's Master of Science program in Family and Consumer Sciences, option in Food Science, where she completed her B.S degree in FCS Nutrition and Food Science with a minor in Sustainability. Patricia has volunteered with various clubs and organizations during her time as an undergrad, participating in various projects on and off campus, including a school garden project aimed at addressing childhood obesity through nutrition education. In addition, Patricia has worked closely with the Institute for Sustainability and held a board member position with the Associated Students Environmental Affairs Committee. Her food science internship experience in food manufacturing initiated an interest in continuing work in the food industry and merging the disciplines through implementation of company sustainability initiatives and responsible manufacturing practices.
Luisa Sabogal
Luisa Sabogal commenced her journey to become a Registered Dietitian at California State University Northridge. Luisa's desire to help humans, especially children and disadvantaged families, become healthier individuals, inspired her to complete a Bachelor program in Nutrition.  
During her junior year she became an active member of the Student Dietetic and Food Science Association, participated in many events and also volunteered in the Dietetic department for Providence Holy Cross Medical Center. Luisa then worked as a Dietitian Assistant at a sub-acute unit and interned as a peer nutrition counselor at Pierce Community College. Further, she was an officer in the Student Dietetic Food Science Association and a Lactation and nutrition educator at Providence Holy Cross Medical Center. This last position has satisfied Luisa's eagerness to re-establish the importance of breastfeeding and good nutrition, especially for underprivileged women, which facilitates the prevention of childhood obesity and contributes to a healthier generation. Obesity being her main focus and concern, she is grateful for breastfeeding education, since breastfeeding is another way to effectively prevent childhood obesity.
In the past five years, Luisa's nutrition knowledge has greatly expanded.  This expansion and the academic momentum has sparked further inspiration, in 2013, Luisa was accepted into the combined program at CSUN, her top choice dietetic internship, after completing the program and passing the Registered Dietitian exam, Luisa became a Registered Dietitian.  Luisa is now working as a clinical dietitian and will be graduating with a Masters in Nutrition in Spring 2014.
Elizabeth Vacarro
Silvia Viveros
Silvia earned her B.S in Family and Consumer Sciences and completed the DPD program at CSUN. She worked as a Nutrition Assistant and provided breastfeeding education to new mothers in English and Spanish. She also taught bilingual nutrition and gardening lessons to parents and children at elementary schools. She served as Secretary for CSUN's SDFSA and is a member of A.N.D., KON, and SCIFTS. She is currently completing CSUN's Dietetic Internship Program. As a RD, she will become a Certified Diabetes Educator and Certified Lactation Educator so that she can better serve the underserved communities.