Dr. Edith Chen's Website
Department of Asian American Studies
College of Humanities
18111 Nordhoff Street, Northridge, CA 91330-8251
Jerome Richfield 340A
Office: 818-677-5690
edith.chen@csun.edu
---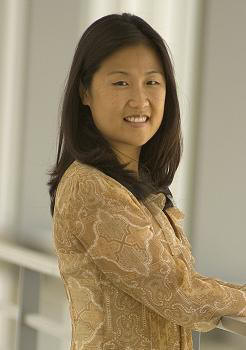 Dr. Chen is an assistant professor whose teaching and research interests include issues of Asian Pacific American adaptation with respect to race, ethnicity, and gender in the U.S. and Latin America; Chinese Americans; Asian American Women; applied research; and intercultural communication. She is the editor (co-edited with Glenn Omatsu) for the pioneering teaching anthology and resource guide, Teaching about Asian Pacific Americans: Effective Activities, Strategies, and Assignments for Classrooms and Workshops (Rowman & Littlefield, May 2006). Since Winter 2004 She has also been working with Nancy Takayama of the San Fernando Valley Japanese American Community Center on the project Telling Our Stories: Japanese Americans in the San Fernando Valley, 1910s-1950s, a multimedia exhibition including photos, oral histories, and a 15 minute documentary. This was a service-learning project involving CSUN Asian American Studies students, currently being exhibited at the San Fernando Museum of Art and History through April 2006.
Currently, she is working on several articles dealing with Asian American women in White, Asian-American, and African-American sororities. She co-authored (with Sukey Soukamneuth) the first of several continuing reports for the Department of Labor, "Molokai Analytic Community Write-Up," which examines the economic and social impact of the federally funded Youth Opportunities grant on the mostly Native Hawaiian rural community of Molokai.
She has taught extensively at various institutions including UCLA, University of Hawai'i, Tokai International College, Kapiolani Community College, Harvey Mudd College, and at various organizations in Venezuela.
THANK YOU FOR VISITING MY WEBSITE!
Last Update: February 24, 2006
Copyright Edith Chen
All Rights Reserved