Calendar (2011-2012)
Nov. 30-Dec. 1 (Wednesday-Thursday): Freshman Celebration, USU Grand Salon. 10 a.m.-3 p.m. Virtual Celebration: online in Moodle.
Nov. 17 (Thursday): Closing ceremony, Campus Food Drive. Oviatt Library Grand Staircase. 12 noon.
Nov. 16 (Wednesday): Campus Food Drive Display, Oviatt Library Grand Staircase. 8 a.m.-2 p.m.
Nov. 1-17 (Tuesday-Thursday): Third Annual Campus Food & Clothing Drive.
Nov. 1 (Tuesday): Unfied We Serve Thanksgiving Banquet: launch of the Third Annual Campus Food & Clothing Drive. 7-10 p.m. RSVP to 818-677-5111 or email unifiedweserve@csun.edu
Nov. 1 (Tuesday): Food Security Panel, Community Engagement Discussion Series. 2:30-3:30 p.m., SH 451.
Oct. 29 (Saturday): MEND Super Saturday. 7 a.m-2 p.m., off campus. More info: 818-677-5111 or email unifiedweserve@csun.edu
Oct. 5 (Wednesday): CSUN students to experience "poverty simulation" sponsored by Unified We Serve
Ongoing: View the video of the 2011 Convocation ceremony. Includes supertitles.
Sep. 8 (Thursday): Jeannette Walls, author of The Glass Castle, speaks at Convocation: 6 p.m. on the Oviatt Lawn. (Read more...)
What CSUN readers are saying
"stayed up to 4am to finish it"
"I just finished the book and thought it was a knockout"
"i just stayed up to 3am to finish it"
"Just finished Glass Castle…wonderful book…I was sad when it ended because I wanted to keep reading!"
"Have been meaning to thank you again for another sleepless night reading! Must tell you… at first I wanted to put the book down and not hear about the "abusive" nature of the story. I held out with mixed emotions and still find myself amazed and thinking about the journeys taken.…I am the same age as Jeannette Walls. Growing up and working in NYC, I could only imagine that I too had passed by her mother on the streets of Manhattan, after seeing a client on Park Avenue."
"When I drive through the desert (on my way to Colorado) I now think about the kinds of treasures that might be out there, waiting to be discovered (instead of the flat, dry, cracked land where only snakes and lizards can survive). When I hear about individual and family hardships, I wonder what kind of imagination and creativity could help them through hard times. Despite the worst of times, how children bond and families survive."
The Glass Castle at other schools and universities
Appalachian State University
Atlantic Cape Community College
University of Tennessee, Knoxville (2009)
In the news
Chronicle of Higher Education story (June 26, 2011) lists CSUN and The Glass Castle
Freshman common reading programs on other campuses
CSUN's Common Reading Archives
To the entering freshman class of 2011-2012
CSUN's 2011-2012 Freshman Common Reading is The Glass Castle: A Memoir by Jeannette Walls in which she tells the story of her astonishing and challenging childhood.
As a new freshman, you are invited to read the book and to discuss it as part of a campus-wide community of readers. Reflecting about a book in this way places academic engagement—teaching and learning—at the very center of the community we are asking you to join. And it allows us all to think, talk, and learn together across and beyond the boundaries of any single classroom.
Did you miss seeing Jeanette Walls (the author of The Glass Castle) speak at Freshman Convocation? You can now view the Convocation video. In any case: read this book; talk about it with other students; and discuss it with faculty, with staff, with administrators, and even (who knows?) with your family.
Welcome to CSUN!
Assignments for faculty using The Glass Castle
Classroom assignments and discussion topics faculty can use with The Glass Castle are posted on the Glass Castle faculty workshop page. Have a new idea for teaching with the book? Email it to me and I'll post it there.
The Glass Castle around campus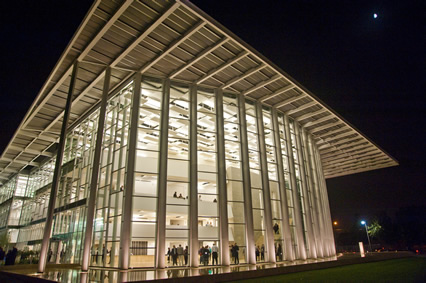 Oviatt Library has put together a great lobby exhibit about The Glass Castle. It's called "Reading and Remembrance." Swing by and take a look!
CSUN's new Valley Performing Arts Center (VPAC) offers a spectacular architectural statement about the power of the imagination. Jeannette Walls authored her glass castle; this building is ours. Students get a substantial discount on tickets to VPAC performances. Take a tour; take a look; take in a performance (with friends or classmates).
On the other hand: perhaps the new (and still-under-construction) Student Recreation Center will be CSUN's glass castle. It's scheduled to open in spring 2012 and includes multiple gymnasium courts, three different fitness zones, three group fitness and exercise studios, an indoor jogging track, a rock climbing wall, a boxing studio, a brand-new outdoor pool, and an outdoor artificial turf field (approx. 125,000 square feet). Feeling like royalty yet? As a CSUN student, the price of an SRC membership is included in your tuition fees.
Further reading: some Oviatt Library resources
Menzel, Peter, and Faith D'Aluisio. Hungry Planet: What the World Eats. Berkeley, Calif: Ten Speed, 2007. Print. http://suncat.csun.edu/record=b2659672
Menzel, Peter, and Charles C. Mann. Material World: A Global Family Portrait. San Francisco: Sierra Club Books, 1994. Print. http://suncat.csun.edu/record=b1669436
Stix, Gary. "The Neuroscience of True Grit." Scientific American, 304 (Mar 2011): 28-33. Print and Web. Available in Oviatt Library--and a good first information competence search assignment for freshmen.
The library has copies of The Glass Castle on Floor 4 East Wing Reserves: Walls, Jeannette. The Glass Castle: A Memoir. New York: Scribner, 2006. Print. http://suncat.csun.edu/record=b2058388
Glass Castle links
Article from @CSUN announcing CSUN's selection of The Glass Castle
"Bad Parents" by Tom McGrath. Philadelphia Magazine, 22 Aug 2007. Longish piece most easily viewed by pressing "Print"; approximates what Jeannette's parents might say in defense of their parenting style if they were bloggers.
View the video of the 2011 Convocation ceremony. Includes supertitles.
Discussion questions for The Glass Castle from the publisher's website.
thebestnotes includes notes on The Glass Castle and thus provides opportunities for students to test their knowledge of the book, and for faculty to be aware of digital sources students may be consulting.
"What Makes a Good Parent?" by Robert Epstein. Scientific American, Nov. 4, 2010. Online. "A scientific analysis ranks the 10 most effective child-rearing practices." See what you think. (Thanks to CSUN faculty member Andrea Hernandez for this article.)
Wikipedia's entry (warts and all) on The Glass Castle.
Wikisummaries on The Glass Castle.
CSUN expertise
Department of Child & Adolescent Development
Department of Family & Consumer Sciences