Not quite the PROUST QUESTIONNAIRE
continued from previous page
Claire White
Assistant Professor, Religious Studies
Photo courtesy of
Lee Choo
Dr. White earned her Ph.D. in cognitive science of religion at Queen's University in Belfast, Ireland. She is a research psychologist with an interdisciplinary approach to religion, using the approaches of the evolutionary and cognitive sciences to understand human thought and behavior, especially folk concepts of personal continuity and representations of the afterlife.
What is your idea of perfect happiness?
Spending the day with my nieces.
What is your greatest fear?
Spending more than a day with my nieces.
With which historical figure do you most identify?
None, they're all dead.
Which living person do you most admire?
My husband—for putting up with me.
What is the trait you most deplore in others?
Rudeness and entitlement.
What is your greatest extravagance?
I spend a lot of money on staying fit and eating healthy. I think it's important to invest in your health.
When and where were you happiest?
I am generally happy. Daily, I love the first cup of coffee in the morning.
What do you consider your greatest achievement?
Generally, not giving up. I think that quality leads to achievements.
If you were to die and come back as a person or thing, what do you think it would be?
Myself—it would be an administrative nightmare if I were anyone else.
What is your most treasured possession?
My diary from when I was 15–20. If anyone reads it I'm in big trouble.
Teresa Morrison
Grants Officer, College of Humanities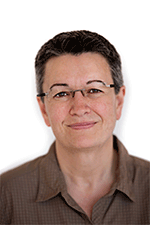 Photo courtesy of
Tram Tran
Ms. Morrison earned her BA in English, concentrating in creative writing, at UCLA. In the years since she has flirted with a number of graduate degree paths, but kept getting diverted by shiny objects and/or sheer panic. For this reason, she expresses deep admiration for the decisive perseverance of our faculty.
What is your greatest fear?
Being found out.
What is the trait you most deplore in yourself?
Indecision?
What is the trait you most deplore in others?
Arrogance. Or maybe entitlement. Arrogant entitlement? Entitled arrogance? It's so hard to decide.
What do you regard as the lowest depth of misery?
Fremont Street in Las Vegas.
What is it that you most dislike?
Being interrupted. In a dismissive way, not in a "Fire!" way.
What is your motto?
The red flags aren't there to wave you to the finish line.