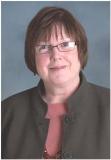 The end of another academic year provides the opportunity to both reflect on the past and look forward to the future. For the College of Humanities, the future looks bright. CSUN's new president, Dr. Dianne Harrison, is focused on the values that characterize the university: student success, commitment to faculty and staff, and regional relevance. At the same time she is looking toward the future, challenging all of us to help make CSUN shine brighter. Inside this edition of the newsletter you will meet some new members of the College of Humanities who will no doubt help us to meet President Harrison's challenge. You will also be introduced to past faculty who have helped to establish the foundation on which these newcomers will build. Eloise Klein Healy, the new poet laureate of the City of Los Angeles, was a longtime faculty member at CSUN. When I was a young faculty member on campus, Eloise was generous and welcoming and we worked together on many initiatives in support of Women's Studies. Her efforts helped shape the current success of the Women's Research and Resource Center described in these pages. I am sincerely thrilled that she is the recipient of this well-deserved honor. You will also be introduced to Earl Greinetz, a longtime donor who has watched CSUN grow from a local college to a major university presence in Los Angeles. As well, you will meet Chancee Martorell, a new friend of the college, who will be featured at this year's commencement ceremonies. Together, new members of the campus community and the contributions of many in the past indeed make CSUN shine!
This May the College of Humanities will welcome social activist Chanchanit "Chancee" Martorell as commencement speaker for the class of 2013. Elizabeth Say, dean of the College of Humanities, views the tireless champion for affordable housing development, small business promotion, neighborhood revitalization, immigrant rights, and social justice as an ideal role model for our graduates. "With her background in the study of Humanities, her engagement with local community service organizations, and her commitment to social justice, she is the perfect embodiment of the College of Humanities mission statement," affirms Dean Say. "I am confident that our students and their families will find meaning and relevance in her remarks."
Born in Thailand and raised from age 4 in multicultural Los Angeles, Martorell prefers not to define communities along ethnic lines. In fact, she attributes her roots as an activist to two episodes of unrest triggered in 1992 across the globe from one another: Thailand's military coup, during which Martorell helped mobilize Southern California's Thai community to protest atrocities committed by the military junta against civilian demonstrators in Bangkok; and L.A.'s civil unrest following the acquittal of LAPD officers involved in the Rodney King beating. Martorell responded to the latter by co-authoring the "Mid-City Plan for the Coalition of Neighborhood Developers" to help address the lack of inner city economic resources in Los Angeles.
Martorell was a teenager when she realized she was drawn to community service and civic engagement. "When I was in high school I served for two years on the Los Angeles Youth Advisory Council, which wastothe youth of the city a voice in City Hall," she says. "I absolutely loved it." After graduating high school, Martorell envisioned herself pursuing politics through a traditional path—by earning a degree in political science and proceeding on to law school—but while at UCLA she discovered her passion for urban planning. She would go on to earn her BA and MA in urban planning, specializing in urban regional and third world development. Along the way she also studied humanities at Chiang Mai University in Northern Thailand.
In 1994, Martorell founded the nonprofit Thai Community Development Center, uniting her pursuits of community engagement and social justice. The ThaiCDC provides services promoting cultural adjustment and economic self-sufficiency for Thai immigrants, and the organization played a pivotal role in the campaign that resulted in the 1999 designation of an East Hollywood neighborhood and business district as the first Thai Town in the nation. She sees the action as part of an economic development strategy to revitalize a depressed section of Hollywood while enriching the city's cultural and social fiber for all residents. Martorell has always believed that any sincere fight for social justice necessarily crosses community lines. "The struggle for justice is not a competition between ethnic groups to see who's the most oppressed or who has had it the hardest historically," she said in a keynote address at the 2008 Listen to the Silence Asian American Issues Conference, held at Stanford University. "Rather than defining ourselves narrowly as the oppressed minority we should think of ourselves as a part of the majority that is continually being undermined by the minority in power."
Among ThaiCDC's greatest achievements to date is the role it played in the U.S. Justice Department's indictment of six labor contractors on charges of imposing forced labor on approximately 400 Thai farm workers. ThaiCDC's involvement stemmed from an initial 2003 complaint by a man who had fled a Hawaiian labor camp and made his way to Los Angeles, eventually finding Martorell's organization, which has advocated for victims of human trafficking since its founding. As ThaiCDC verified his complaints and uncovered many more victims of abuse, it exerted concerted pressure on the Justice Department, which brought a grand jury case in 2010. Justice officials said that it was the largest human-trafficking case ever brought by federal authorities.
Martorell, who is married with two children, has a 20-year service record to various boards and organizations with local, nationwide, and international reach. Her many awards and honors include a "Royal Decoration of the Most Admirable Order of the Direkgunabhorn," bestowed by King Bhumibol Adulyadej of Thailand in June 2012 for her service to the Thai community abroad. She says that receiving the honor was a "wonderful and strange experience," explaining that her campaigns for workers' rights were initially viewed as a challenge to Thailand's old and still very influential feudal society, a "rigid, hierarchical social orderwomen and poor peopleare on the absolutely lowest rungno rights and no voice whatsoever." As an immigrant raised outside of Thailand with no recognized wealth or lineage in the country, Martorell was at first seen as a troublemaker for assuming a leadership role and condemning power structures that failed to protect vulnerable Thais from abuse and exploitation. "Much of what ThaiCDC accomplished was either ignored, minimized,orattackeddenounced byopponents," says Martorell. "Naturally, we never quit, andeven our staunchest opponentsto realize that we really meant what we said and we're here to serve the Thai community—all of the Thai community." Being officially recognized by the king for her work after such a long journey was "an emotional, because it meant that we had come a long way and that there was hope for real change in our community's future and hopefully for Thailand itself."
Martorell was also honored in November 2012 at CSUN's Phenomenal Woman Awards, a Gender and Women's Studies biennial event that celebrates women who have made extraordinary contributions to local communities. Women's Studies chair Sheena Malhotra says that the selection committee was drawn to Martorell particularly "because her work brings together activism and real change that impacts the lives of women." The "transnational focus" of her work highlights the "global political connections" that GWS professors emphasize with students every day, Malhotra says. "Chancee's work brings out empowering stories of transformation for all women."
And to those graduating students who want to effect positive change in the world but aren't sure they can truly make a difference, Martorell advises, "The only true prerequisite to be an agent of change in this world is a sincere heart. Nobody can see victory at the start of any struggle; in fact you may feel completely hopeless. If youcalleda cause and you know there is no other life for you, then you simply have tohard and be persistent—with an open mind. All advocacy work is faith-based, regardless of what your belief may be."
Submitted by Teresa K. Morrison