Overview
Mission Ops
Timeline
Payload
Ground Station
The Team
Photos
CSUNSat1:
Funding: This project is funded through the SmallSat Technology Partnerships, a program within the NASA Small Spacecraft
Technology Program (SSTP).
Launch: CSUNSat1 was also selected by the NASA Cubesat Launch Initiative (CSLI) for a no-cost launch and became part of the ELaNA XVII mission on OA-7.
Deployment:CSUNSat1 was deployed into low earth orbit 0n Wednesday, May 17 at 2115 PDT . Two hours later members of the team gathered together at the ground station to hear our first signals! The mission is underway. See the video here.
View our antenna deployment / communications link test video here.
See details on the OA-7 launch along with launch and capture videos.
Articles:
Awards: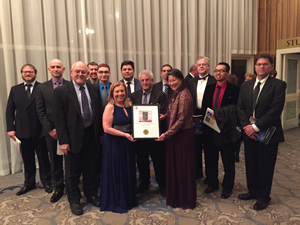 Publications:
For more information on CSUNSat1, contact Dr. Sharlene Katz at skatz@csun.edu
Mission Status: CSUNSat1 is proceeding with mission operations.

Beacon reports: The CSUNSat1 team appreciates the beacon reports that have been received from amateur radio operators around the world. QSL cards will be available shortly along with a beacon decoder. Please submit beacon reports to skatz@csun.edu .
Goal: Space test a low temperature capable, battery/ultra-capacitor power system
Battery:
Operates down to -50°C and maintains most of its specific energy
Operates without heater
Ultra-capacitor:
Provides energy during peak transient loads
Limits discharge/recharge
This new power system will:
Extend the potential lifetime of power systems
Lowers spacecraft mass
Lowers power requirements
CSUNSat1 Spacecraft unique features:
Custom power system designed to:

Dissipate heat outside of the spacecraft
Switch batteries during flight on command

Satellite antenna designed to maximize worst case link availability at the horizon with no attitude control
Customized bare metal software with no operating system to improve reliability
Ground station with customized mission control, satellite tracking, and doppler correction software
A ground station located at California State University, Northridge includes the following:
Kenwood TS-2000 UHF/VHF Transceiver
Kantronics Packet Communicator 9612 Plus
Steerable yagi with 13dBi of gain controlled by custom tracking software
Adjustment for doppler on transmit and receive using custom software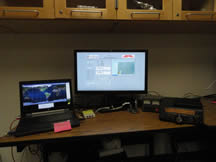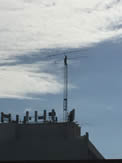 The CSUNSat1 laboratory includes the following customized test equipment designed by CSUN faculty:
Solar Simulator: Uses LabVIEW to provide a first order approximation of a solar panel. Has the ability to change the power output to the satellite due to changes in satellite in real time.
Battery Simulator: Programmable simulator can be charged and discharged with safety protection.
Load Simulator: Controllable constant current load used in rapid testing.
The CSUNSat1 spacecraft has been designed, built, and testing by California State University students and faculty.
A team of four faculty:
Prof. Sharlene Katz
Prof. James Flynn
Prof. Adam Kaplan
Prof. David Schwartz
has worked with over 70 CSUN students:
William Fisher (Jan. 2013 - Dec. 2013): B.S. in Electrical Engineering (2014), TAMKO Building Products
Matthew Keyawa (Jan. 2013 - present): B.S./M.S. in Electrical Engineering (2012/2014), Jet Propulsion Laboratory
Nicholas Keyawa (Jan. 2013 - present)
Andy Kurum (Jan. 2013 - Dec. 2013): B.S. in Electrical Engineering(2013), M.S. in Computer Engineering(2015), Jet Propulsion Laboratory
Steven Parks (Jan. 2013 - Dec. 2013): B.S. in Electrical Engineering (2014), Raytheon
Kev Sepetci (Jan. 2013 - present): B.S. in Computer Engineering (2013)
Rufus Simon (Jan. 2013 - Dec. 2013): B.S. in Electrical Engineering (2014), Jet Propulsion Laboratory
Joseph Zitkus (Jan. 2013 - Dec. 2013): B.S. in Electrical Engineering (2014)
Arnold Martinez (June 2013 - May 2014): B.S. in Computer Science (2014), Aberdeen Test Center
David Castro (June 2013 - May 2014): B.S. in Electrical Engineering (2014), L.A. Department of Water and Power
Robert Cholvin (June 2013 - August 2013): B.A. in Applied Math (2014)
George Randel (June 2013 - August 2013)
James Downs (June 2013 - Dec. 2013)
Gor Beglaryan (June 2013 - May 2014)
William Cannon (August 2013 - May 2014)
Kyle Figatner (August 2013 - May 2014): B.S. in Electrical Engineering (2014), L.A. Department of Water and Power
Aaron Lawson (August 2013 - May 2014)
Edras Lepe-Zapata (August 2013 - May 2014)
Roberto Orrostieta (August 2013 - May 2014): B.S. in Electrical Engineering (2014), LA Department of Water and Power
Michael Beirdneau (Jan. 2014 - Dec. 2014): B.S. in Electrical Engineering (2015)
Carl Chesko (Jan. 2014 - present): B.S. in Electrical Engineering (2015), Jet Propulsion Laboratory
Gerardo Coronado (Jan 2014 - present)
Michael Groom (Jan. 2014 - Dec. 2014): B.S. in Electrical Engineering (2014), U.S. Navy Air Systems Command (NAVAIR)
Kiran Iyer (Jan. 2014 - Dec. 2014)
Sopan Khurana (Jan. 2014 - Dec. 2014)
Scott Okuma (Jan. 2014 - May 2014)
Simon King (Jan. 2014 - present)
Robert Turner (Jan. 2014 - Dec. 2014)
Warren Kaye (August 2013 - May 2014)
Michael Landers (August 2013 - May 2014): B.S. in Computer Science (2015), Apple Computer
Cameron McAteer (August 2013 - May 2014)
Gregory Pease (August 2013 - May 2014)
Andranik Andy Tonoyan (August 2013 - May 2014): B.S. in Computer Science (2014), Software Engineering at Riot Games
Candace Walden (Jan. 2014 - present)
Arman Hayrikian (Jan. 2014 - May 2014)
Jack Buffington (Jan. 2014 - May 2014)
Natalia Alonso (June 2014 - May 2015): B.S. in Computer Science (2015), FatTail Inc.
Ilia Benson (June 2014 - present)
Jonathan Castello (June 2014 - May 2015)
Donald Eckels (June 2014 - May 2015)
Jared Fowler (June 2014 - May 2015)
Benjamin Plotkin (June 2014 - May 2015): B.S. in Computer Science (Expected: 2016)
Paul Jessen (August 2013 - May 2015): B.S. in Electrical Engineering (Dec. 2015)
Gevorg Yegiazaryan, E.I.T. (June 2014 - May 2015): B.S. in Electrical Engineering, May 2014.
Todd Hurst (June 2014 - May 2015)
Michael Turner (June 2014 - May 2015)
Kyle Abrahamsen (June 2014 - May 2015): B.S. in Electrical Engineering (2015), NAVFAC Port Hueneme Naval Base
Jean Korkis (June 2014 - May 2015)
Juan Moreno (June 2014 - May 2015)
Joshua Meadors (June 2014 - May 2015)
Iron Tessaro (June 2014 - December 2014)
Elizabeth Tafoya (August 2014 - May 2015)
James Bopp (Jan. 2015 - May 2015)
Jonathan Yeager (Jan. 2015 - May 2015)
Yair Arbeli (Jan. 2015 - May 2015)
Jose Gonzalez (January 2015 - present)
Walter Gonzalez (January 2015 - present)
Matthew Ingram (January 2015 - present): B.S. in Electrical Engineering (expected May 2016)
Robert Palmer (January 2015 - present)
Sigi Rodriguez (January 2015 - present)
Taylor Santre (January 2015 - present)
Rosy Davis (January 2015 - present)
Nereida Herrera (January 2015 - present)
Phuoc Ma (June 2015 - present)
Gary Gamble (June 2015 - present): B.S. in Computer Engineering (Expected: 2016), Crane Aerospace and Electronics
Clifford Williams (June 2015 - present)
Chris Tufenkjian (June 2015 - present): M.S. in Computer Science (2016), Edmunds.com
Cesar Garcia(June 2015 - present): B.S. in Computer Science (Expected: 2016)
Sandra Dheming Lemus (June 2015 - present)
Priya Malavia (June 2015 - present)
Timothy Friedman (September 2015 - present): B.S. in Computer Science (2016)
Nghia Tran (June 2015 - August 2015)
Armen Arslanian (June 2015 - present): B.S. in Computer Engineering (Expected: 2017)
Nicolas Eng (June 2015 - present): B.S. in Electrical Engineering (Expected: 2016)
Daniel Goodale (August 2015 - December 2015): M.S. in Electrical Engineering (Expected: 2016), Edwards Air Force Base
JP Palacio (January 2016 - present)
Spring 2013:
Summer 2013:
August 2013: Presentation at CSUN to JPL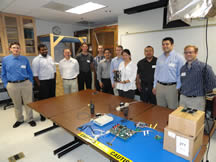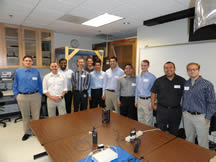 September 2013: Family and Friends Night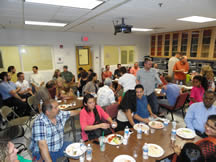 Fall 2013 Team
Spring 2014 Team
Summer 2014 Team
Fall 2014 Team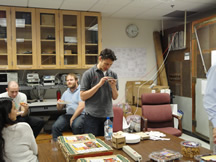 Spring 2015 Team
Summer / Fall 2015 Team
Spring 2016 Team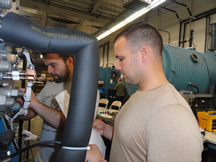 CSUNSat1 Celebration, June 17, 2016
See photos at: http://www.csun.edu/cubesat/partyPhotos.html
Fall 2016 Fit Check
Packing (12/30/2106) and Shipping (01/03/2017)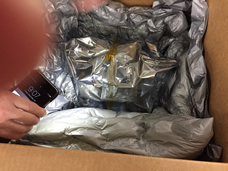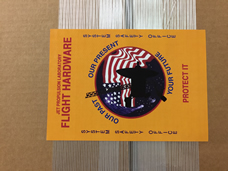 Integration into Deployer at Nanoracks (1/5/2017)
Engineers' Council Awards Banquet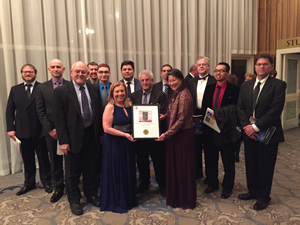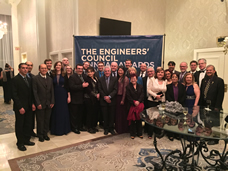 The Launch (4/18/2017)

Berthing and Installation at ISS (4/22/2017)

Deployment Viewing (5/17/2017)