PALUZZO CARDINAL PALUZZI ALTIERI DEGLI ALBERTONI (1623-1698). Paluzzo Paluzzi was a member of one of Rome's distinguished families. He obtained a doctorate in law at the University of Perugia. He joined the Apostolic Chamber under Urban VIII Barberini, and became Auditor General under Alexander VII Chigi. His family was joined with the Altieri when his nephew, Gaspare Albertoni, married the niece and sole heiress of the family of Emilio Cardinal Altieri. In 1664 he was named Cardinal Priest and received the titulus of SS. Apostoli (which he exchanged for S. Crisogono and then S. Maria in Trastevere). He was elected Bishop of Montefiascone and Corneto in 1666.

In 1670, his relative Emilio Cardinal Altieri, was elected Pope Clement X, and on the day of the election the new pope adopted Paluzzo Paluzzi and named him Cardinal Nephew. He received a number of important benefices as a result: Archbishop of Ravenna (1670-1674?), Legate in Avignon (1670), Legate in Urbino (1673-1677), Governor of Tivoli. He became Chamberlain of the Holy Roman Church on August 4, 1671, a post which he held until his death on June 29, 1698. In 1691 he was promoted to Cardinal Bishop of Sabina, then Palestrina, and then to Porto and Santa Rufina in 1698. He was Archpriest of the Lateran Basilica from 1693-1698. His funeral monument is in S. Maria in Porticu [V. Forcella, Inscrizioni delle chiese di Roma V, 381, no. 1045]

He participated in the Conclaves of 1667 and 1669-70 and acted as Camerlengo at the Conclaves of 1676, 1689, and 1691.
The Dean of the Sacred College of Cardinals was Cardinal Alderano Cibò.
The Secretary of the Sacred College was Abbot Guido Passionei of Fossombrone
The Marshal of the Conclave was Prince Giulio Savelli (1626-1712), the second son of Prince Bernardino Savelli, Prince of Albano (1606-1658) and Felice Peretti, the heiress of Pope Sixtus V. He married Caterina Aldobrandini, daughter of Pietro Aldobrandini, Duke of Carpentino, and then Caterina Giustiniani. The family were perpetually in financial difficulties: in 1596 they sold Castel Gandolfo to the pope, and in 1650 the duchy of Albano. He succeeded his father as Marshal of the Holy Roman Church in 1658. He had one son, who predeceased him. On his death in 1712, the office of Marshal of the Roman Church was conferred on the Chigi Family. Prince Giulio Savellio left a manuscript Conclave Diary; it is in the Chigi archives.
The Governor of the Conclave was Msgr.Girolamo Cusani, uncle of Don Livio Odescalchi, the Pope's nephew.
The Masters of Ceremonies at the Conclave of 1689 were: Carlo Vincenzo Carcarasio, Domenico Cappello, Pietro Santi di Fontibus, Candido Cassina, and Giustiniano Chiapponi da Rossena (Bullarium Romanum Turin edition 20, p. 2)—Cappello and Cassina left Diaries of the events [Vincenzo Forcella, Catalogo dei manoscritti relativi alla storia di Roma I (Roma 1879), p. 87, no. 626 (Vat. Lat. 8390)]. In 1692, Cassina, aged 38, gave testimony in the Process of the Beatification of Innocent XI, as did Chiapponi, aged 59.
The Captain General of the Holy Roman Church (Papal Army) was Livio Odescalchi , the only son of the late Pope's brother Carlo (Distinto Ragguaglio dell essequie, p. 2; Moroni, Vol. 36, 25)





Baroque shield with Stemma of Ludovico Odescalchi, surmounted by coronet, with drapery behind, flanked by two keys and the Ombrellone over all..





LIVIVS | ODESCALCVS | CAPIT:GEN: |
S(anctae) R(omanae) E(cclesiae) |
SEDE VACAN |. 1689


A wreath surrounds the inscriptiomn


Mazio —.
"L' origine de tant de médailles remonte à l'époque où le conclave se tenait toujours au palais du Vatican, et où l'on interdisait à tout le monde, pendant tout le temps de sa durée, l'entrée de la cité Léonine, c'est-à-dire du quartier appelé le Borgo. Alors tous ceux qui, soit pour leurs affaires, soit pour tout autre motif, devaient se rendre dans ce quartier du Borgo, étaient arretés en tête du pont Saint-Ange ou de tout autre pont communiquant avec le Vatican; on ne laissait passer que ceux qui étaient porteurs d'une médaille expressément frappée pendant la vacance du siége au nom de l'un des personnages nommés ci-dessus."
X. Barbier de Montault, Le Conclave (Roma 1878) 19.
---
Death of Pope Innocent XI
The Pope had been in bed since the end of June. On the 19th he had intended to hold a regular consistory for the examination of bishops, but had cancelled it because of "le flussione"; on Tuesday he did not hold his regular meetings with ministers. To make sleep easier, carriages were forbidden to enter the courtyard of the Quirinale. Additional doctors were sent for. On the 25th the Pope was stricken with another fever. The Ambassador of Spain, Marchese Cocogliudo, sent his Gentleman to the Quirinal to inquire about the Pope, and was told he was indisposed [Avvisi italiani, ordinarii, e straordinarii no. 56, 14 Luglio 1689 (dispatch of June 25)]. On the Feast of S. Peter and Paul on June 29, the Pope was unable to participate, and Cardinal Chigi had to deputize for him [Avvisi italiani, ordinarii, e straordinarii no. 58, 21 Luglio 1689 (dispatch of July 2)]. Since the Pope's condition had grown worse by Sunday, July 2, the doctors decided to lance his left leg, which caused the release of a great deal of fluid, making the patient feel much better. But on Tuesday, he became worse again, a situation which was attributed to the bad diet, mostly broth, on which the Pope was being nourished [Avvisi italiani, ordinarii, e straordinarii no. 60, 28 Luglio 1689 (dispatch of July 9)]. Ordinary papal business came to a near halt [Avvisi italiani, ordinarii, e straordinarii no. 62, 4 Agosto 1689 (dispatch of July 16)].
Innocent continued suffering from a fever, caused by severe kidney problems for a total of 53 days; his legs and feet were swollen and painful. The Process of his Beatification [Positio super Dubio, p. 43] summarizes the reports from a number of witnesses:
Infirmitatem paenosissimam 58. dierum toleravit, mixtam febribus, erisipele, abscessibus suppuratis ad pedes, podagra, ulceribus et fistulis in articulis pedum, queis gravissimis morbis alter partiter paenosissimus in renibus per 33. annos continuo duorum magnorum calculorum obstruentium foramina renum addebatur.
One of the avvisi, the "Il corriere ordinario, Num. 68" (August 25, 1689), reported news from Rome of August 6 that the Pope was in considerable distress. In order to relieve his pain it had been necessary to perform an operation on Sunday, July 31, on his right leg. This was done with success, and therefore, another incision was made on Monday, and a third on Tuesday. An incision also had to be made on his right heel, due to swelling. The pain eased, but the Pope's general debility continued. The surgeon, Magnani, stated that he did not want to make further use of the lancet. The Pope was not receiving Cardinal Cibo, the Secretary of State, at the time, so that the ordinary business of the Papacy could continue. Business ground to a halt. Four or five days before he died, according to his longtime Doctor, Msgr. Giovanni Maria Lancisi, Chamberlain of Honor, the Pope was told that his death was imminent.
During his illness the Pope did not want his nephew, Don Livio Odescalchi, to enter his bedchamber, a position the Pope maintained at least until after he had received the Viaticum, three days before his death. He only wanted to recommend to his nephew that he not get mixed up in the business of the Conclave, but to leave that to the College of Cardinals. His ministers tried one last time to serve their own interests, by urging the dying Pope to hold a Consistory to create new cardinals, since there were ten vacancies in the Sacred College. The Pope's Confessor, Father Luigi Maraccio, was even enlisted in the effort, on behalf of Don Livio. It was apparently believed that, with more of the creature of the Odescalchi in the Sacred College, the curremt power structure would have a better chance of controlling the outcome of the election. No doubt, too, some of the faithful retainers hoped that their names might be among those named to the vacancies.
On Thursday morning, August 11, Cardinal Colloredo, the Major Penitentiary was summoned, and he imparted a general absolution and granted a plenary indulgence. Cardinal Colloredo took the opportunity to remind Innocent that he had intended to raise ten men to the cardinalate, but the Pope replied that his honor and glory was to save his soul; the honor and glory of new cardinals he would leave to his successor. The Papal Sacristan, Msgr. Giuseppe Eusanio, titular Bishop of Porphyreum in Phoenicia, gave him the Viaticum and Extreme Unction on Thursday evening. He made his final profession of faith.
Late in the morning of Friday, August 12, 1689, the Pope lost the power of speech, and began to have trouble breathing. The Pope's last moments were presided over by Cardinal Colloredo, who granted him full absolution for his sins. Cardinal Colloredo called the doctor, Lancisi, to bring a candle, and when it was placed at the Pope's mouth there was no movement. Cardinal Colloredo kissed the dead man's feet. Pope Innocent XI (Odescalchi) died at 22:00 hours (Rome time), at the Palazzo Quirinale where he resided. Innocent had reigned for thirteen years. The papal throne was vacant for one month and twenty-three days.
The evening of the Pope's death, Cardinal Paluzzo Paluzzi Altieri, the S.R.E. Camerarius (Camerlengo), came to the Pope's death chamber to perform the Rogito. Next morning, Saturday, August 13, the body was opened and enbalmed. The doctors discovered two large kidney stones, and some twenty small ones [Relazione dell' ultima infermità, p. 3]. A brief report was given to the investigators from the Congregation of Rites, who undertook the process for the Canonization of the late pope, by the papal physician, Msgr. Giovanni Maria Lancisi, Canon of S. Lorenzo in Damaso [Marini, Degli archiatri pontifici II, 85. Monsignor Lancisi (1654-1720) was a member of the Arcadian Academy: his biography by Crescimbeni in Giovanni Mario Crescimbeni, Le vite degli Arcadi IV, 183-221; another biography in Crescembeni, Notizie istoriche degli Arcadi morti I (Roma 1720) 24-27; a list of his published and umpublished works in Bibliografia romana: Notizie della vita e delle opere degli scrittori romani Vol. 1 (Roma: Tipografia Eredi Botta 1880), 146-149].
The barber who prepared the face and hair of the dead pope for viewing took samples of his hair as mementos, which were given to the various prelates who were permitted to visit the death chamber [testimony of Canon Giuseppe Tibero de Quadris, Positio super Dubio, 202].
That night the body, vested in mozzetta and stole, was transferred from the Quirinal to the Vatican, where it was vested in full papal regalia and placed in the Sistine Chapel. Next morning, Sunday, August 14, the body was transported by the Canons and Chapter of St. Peter's to the Vatican Basilica, and placed in the Chapel of The Most Holy Trinity, where it lay in state for the next three days.
Novendiales
After the ceremonies were concluded, the first General Congregation took place that Sunday, in the Hall of the Parchments in the Vatican Palace. They decided that the Conclave would begin on the the tenth day after the Pope's death. They also witnessed the defacement of the Fisherman's Ring, and turned over the broken pieces of the seals to Msgr. Raggi and Msgr. Litti, Clerics of the Apostolic Camera. Controversy broke out among the Cardinals on the subject of the position of General of the Holy Roman Church.
Innocent XI had left the position vacant during his pontificate, but some of the friends of Don Livio Odescalchi wanted the General Congregation to vote to give the position to him. The supporters were uncertain that they could succeed, so they first proposed that the Cardinals should vote on whether to make an appointment at all, or not. There were twelve votes for making an appointment, eleven against. When the vote on the appointment of Don Livio was taken, he received twenty-one of twenty-three votes [See a photo of one of his tokens above]. Cardinal d'Estrées, who was one of the twenty-three Cardinals attending Congregation that day, announced publicly that he would not vote for Don Livio. The Governor of the Borgo and of the Conclave was also elected— Msgr. Girolamo Cusani, the uncle of Don Livio [Novaes XI, p. 78].
Cardinal Giovanni Battista Spinola (aged 76), the Cardinal of S. Cecilia, who was Governor of the City of Rome, announced to the General Congregation that his various indispositions might compel him to enter the Conclave later than the other Cardinals, and that, in that event, he wanted to continue in his office; the Cardinals agreed that he might do so, but that when he did enter the Conclave, the Cardinals reserved the right to elect a replacement for him as Governor. In the event, Spinola did not enter the Conclave until nearly the final vote, thereby successfully avoiding all of the heat and disease of the Vatican in the summertime. Msgr. Giuseppe Renato Imperiali, the Treasurer General of the Apostolic Camera was elected (with only one disserting vote) to continue in his functions as Commander of the Castel S. Angelo, the Campagna Marittima and the Galleys [He became a cardinal on February 13, 1690]. Msgr. Emanuel van Schelstrate, Custodian of the Vatican Library, was appointed to preach the Funeral Oration, and Fr. Louis Sergardi to preach the Oration de pontifice eligendo.
Cardinals Norfolk (Philip Howard), Spada and Astalli were deputed to see to the construction of the Conclave premises in the Vatican Palace.
The first of the Novendial masses took place in the presence of the Cardinals on Monday, August 15.
Next day, Tuesday, August 16, after the Requiem Mass and attendant ceremonies, the Cardinals assembled in the Sacristy of S. Peter's Basilica for the Second Congregation. The Conservatori of Rome were received. Don Livio Odescalchi and Msgr Girolamo Cusani appeared and took their oaths. Various other confirmations of various officials were made.
On Wednesday, August 17, in the evening, the body of Pope Innocent XI was laid to rest in the Vatican Basilica, on the south side of the first aisle, near the entrance to the Chapel of the Choir. On Sunday, August 21, The Funeral Oration was pronounced by Msgr. Emanuel von Schelstrat, First Custodian of the Vatican Library and Canon of S. Peter's Basilica [Distinto Ragguaglio dell essequie, pp. 4-5. The text is given in the Positio super Dubio, 220-224].
In the following days, during the Congregations, various embassies were received, to present the condolences of their governments and wish the Cardinals a successful outcome to the Conclave. Also various diplomatic complaints were received and dealt with. Abbe Mancini, representative of the Grand Duke of Tuscany was received; the resident envoy of Savoy, the Count de Gubernatis; the ambassadors of Bologna and Ferrara; the representative of the King of Poland, Cardinal Carlo Barberini; Cardinal de'Medici spoke as Protector of the Holy Roman Empire and also in the name of the King of Spain. The Congregation also received the Apostolic Brief which allowed Cardinal de'Medici to vote in the Conclave even though he was not in major holy orders.
On Tuesday, August 23, the Novendiales having concluded, the Cardinals prepared to enter Conclave. The Mass of the Holy Spirit was sung in the Vatican Basilica by Cardinal Cibò, the Cardinal Dean. The Distinto Ragguaglio dell essequie (p. 5), however, states that the Mass was sung by Cardinal Altieri, Bishop of Sabina. The Oration pro pontifice eligendo was recited by Abbot Sergardi. Afterwards, the Cardinals went in procession to the Conclave area in the Vatican Palace, where they received visitors in their cells. Among the last to depart were the Ambassador of Spain, the Marquis de Cogolludo, and Don Livio Odescalchi, who exhorted the cardinals created by his uncle to stick together to elect a new pope. It was well into the night (4:00 hours) when the Conclave was finally enclosed by Cardinal Barberini, the senior Cardinal Priest, and Cardinal Maidalchini, the senior Cardinal Deacon, and the Cardinal Camerlengo, Cardinal Paluzzi Altieri. The senior Cardinal Bishop, Cardinal Cibò, had already retired for the night.
Each day of the Conclave, delegations from the parishes of Rome and the Confraternities went in procession to the Piazza S. Pietro and sang the Veni Creator Spiritus.
Political Situation: The Aggression of Louis XIV
The Conclave of 1689 was a notably difficult one. The dead pope, Innocent XI Odescalchi, had pursued a series of policies which conflicted with the ambitions of King Louis XIV of France in both international politics (where the Pope favored a rapprochement with the Emperor Leopold I and an alliance with King John Sobieski of Poland in the interest of a crusade against the Turks, who were at the gates of Vienna) and in internal French affairs (where the king's hostility toward the Jansenists and his absolutist royalist pretensions to regalian rights had led to the Four Gallican Articles of 1682). Relations with Louis XIV could not have been worse; Avignon and the Venaissin had been confiscated, and, for a time, a French army occupied one quarter of the city of Rome. King Louis and his ministers were excommunicated in January, 1688. To bring the Pope to his knees, Louis ordered his representative in Rome to make it known that the Papal States were going to be invaded by a French Army. To emphasize the seriousness of the rupture, on April 14, 1689, Louis recalled his representative, the Marquis de Lavardan, and revoked the powers he had given Cardinal d' Estrées to conduct French business in Rome [Gérin 137-138]. Cardinal d' Estrées had been working, at the King's command, to bring together the factions led by Cardinals Chigi, Rospigliosi and Altieri [Hanotaux, Recueil, 356]. But it was a pointless exercise. France and the Papacy were completely at odds. At the Pope's death, there were thirty-five vacant bishoprics in France. King Louis XIV had the right of appointment of all but three French bishoprics, in accordance with the Concordat of Bologna of 1516, which was ratified by the Fifth Lateran Council in Sessio XI [Baronius-Theiner 31, sub anno 1516, nos. 12-17, pp. 117-119; J. D. Mansi, Sacrorum Conciliorum nova et amplissima collectio 32, pp. 947-965; Claude Fleury, Historia ecclesiastica continuata 33, no. cxxvii, p. 177-178]; but the Pope then had six months to issue the appropriate bulls authorizing the consecration. This Innocent XI had refused to do.
Representatives of the Crowns
Both the Empire and France sent Ambassadors Extraordinary to the Conclave. Louis XIV dispatched the Duc de Chaulnes, who arrived on September 27, along with Cardinal Bonzi and Cardinal de Bouillon. Cardinal Le Camus, who was in very bad odor, had been ordered by the King not to attend [Petruccelli III, 320]. Chaulnes had been instructed to obstruct an election by forming a group of (eighteen) cardinals to prevent 2/3 of them from carrying out a canonical election ('virtual exclusion'); Chaulnes was not to present an actual veto (exclusiva), but the King eliminated Portocarrero, Salazar, Aguirre, Orsini, Pignatelli, Carafa, Lauria, Visconti, Ciceri and Medici. But Chaulnes and Cardinal d'Estrées, the French spokesman inside the Conclave, were enemies, and it was necessary to send along the Marquis de Torcy as well, to act as an intermediary between the two, if there was ever to be a coordinated application of French influence. To avoid even the appearance of discord, Chaulnes was ordered by the King to take up residence in Cardinal d'Estrées' palazzo, rather than at the palazzo of Cardinal Maidalchini, as Chaulnes wished [Petruccelli III, 319]. Louis finally reconciled himself to the election of Cardinal Pietro Ottoboni, as he stated in a dispatch to Chaulnes on October 16 [Gérin, 139], but it was too late. The election had already been accomplished.
As for the Spanish, the minister of the Grand Duke of Tuscany wrote to Cardinal de' Medici on August 19, 1689, enclosing the declaration of the Spanish Court on the cardinals. They would not exclude the Genoese or Lucchese, though they were republicans. But they did exclude the Neapolitans. The French were excluded, and those who followed them: Bonzi, Bouillon, Maidalchini, Cibo, and Furstenberg. Obviously, by "excluded" the Spanish do not refer to the formal exclusiva, but to "undesirable" candidates. They had a "secret" (Ottoboni), which would be given to Medici and to Cocolludo. Spain was, however, afraid of a Venetian cardinal on the Throne of Peter. With their interests in Naples and Lombardy, a resurgent Venice, patronized by the Papacy, would be a destabilizing influence on Spanish control in Italy.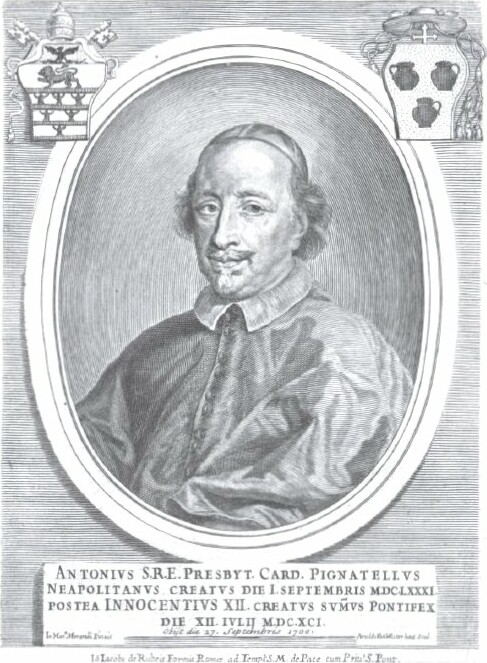 Cardinal de' Medici. Cardinal d' Estrées Cardinal Pignatelli
The Cardinals
There were sixty cardinals at the death of Innocent XI, though only two of them came from the Austrian Empire, Graf Leopold Kollonitz (Wiener-Neustadt-Györ) and Johannes von Goëss (Gurk)—the latter of whom did not reach the Conclave in time to participate [Bischoffshausen, 9]. There were three Spanish cardinals, Luis Portocarrero (Toledo), Pedro de Salazar (Cordoba), and José de Aguirre, OSB, two of whom did not attend. Alexander VIII's motu proprio granting graces and privileges to the Conclavistae [Bullarium Romanum (Turin edition) 20, pp. 2-5] and to the Dapiferi [Bullarium Romanum (Turin edition) 20, pp. 5-7], provides two authoritative lists of the Cardinals who were present at the Conclave. There were six Cardinal-Bishops, thirty-four Cardinal-Priests, and eleven Cardinal-Deacons.
A list of participants in the Conclave of 1689 is also given in the contemporary pamphlet, Sincero racconto, p. 3; and a list of the Cardinals who participated in the Coronation in Esattissima descricione, p. 7. Guarnacci provides a list of the fifty-two cardinals at columns 303-304.
Alderano Cibò (aged 76) [Genoa], of the family of the Principi di Massa di Carrara, Bishop of Ostia and Velletri [Cappelletti, Chiese d' Italia I (Venezia 1844), 479-480, 487], Dean of the Sacred College of Cardinals. (died July 22, 1700)
Pietro Ottoboni (aged 79) [Venice], Bishop of Porto e Santa Rufina (1687-1689) Secretary of the Inquisition (died February 1, 1691) He was elected Pope Alexander VIII.
Flavio Chigi (aged 58) [Siena], Bishop of Bishop of Albano (1686–1689). Prefect of the Signature of Justice (died September 13, 1693). Nephew of Pope Alexander VII
Antonio Bichi (aged 51) [Siena], Bishop of Palestrina (1687-1691). (died February 21, 1691) Bishop of Osimo (1656–1691). Nephew of Pope Alexander VII.
Giacomo Franzoni (aged 77) [of Genoa], Bishop of Frascati (1687–1693) [Cappelletti, Chiese d' Italia I (Venezia 1844), 644, 651]. Later Bishop of Porto (1693-1697). (died December 19, 1697).
Paluzzo Paluzzi Altieri degli Albertoni (aged 66) [Romanus], Bishop of Sabina (February 2, 1689-August 8, 1691), subsequently Bishop of Palestrina and then Bishop of Porto. Prefect of the S.C. de Propaganda Fide. Doctorate in law (Perugia). Camerlengo His funeral monument is in S. Maria in Porticu [V. Forcella, Inscrizioni delle chiese di Roma V, 381, no. 1045]


Carlo Barberini (aged 59) [Romanus], Cardinal Priest of S. Lorenzo in Lucina (1685-1704). (died October 2, 1704). Grand-nephew of Urban VIII. Archpriest of the Vatican Basilica. Representative of the Kings of Portugal and of Poland.
Gregorio Barbarigo (aged 64) [Venice], Cardinal Priest of S. Marco (died June 18, 1697). Bishop of Padua (1664-1697). Doctor in utroque iure (Padua)
Giannicolò Conti di Poli (aged 72) [Romanus], Cardinal Priest of S. Maria Traspontinae (1666-1691) (died January 20, 1698) Bishop of Ancona.
Giulio Spinola.(aged 77) [Genoa], Cardinal Priest of San Martino ai Monti (died March 11, 1691). Bishop of Nepi and Sutri. [left the Conclave on September 24, 1689, due to illness].
Giovanni Delfino (aged 72) [Venice], Cardinal Priest of SS. Vito, Modesto e Crescenzia (died July 19, 1699). Patriarch of Aquileia. Arrived at the Conclave on September 5.
Emmanuel de la Tour d'Auvergne de Bouillon (aged 46) [France], Cardinal Priest of S. Pietro in Vincoli, subsequently Bishop of Albano (1689-1698). Succeeded Cardinal Cibò as Bishop of Ostia in 1700 [Cappelletti, Chiese d' Italia I (Venezia 1844), 480-481, 487]. (died March 2, 1715) One of his conclavists was the twenty-eight-year old Melchior de Polignac, the future Cardinal [Crescimbeni Vite degli Arcadi V, 206].
Carlo Cerri (aged 79) [Romanus], Cardinal Priest of S. Adriano al Foro (1670-1690), created by Clement IX in 1669 (In the privilegium of the conclavists [Bullarium Romanum 20, p. 3 column 2] and in the motu proprio of the dapiferi [Bullarium Romanum 20, 6, column 1], Cerri is listed as tituli S. Adriani S.R.E. presbyter Cardinalis; S. Adriano must have been raised to the status of a titulus for him). Doctor of Law (Sapienza) in 1629 at the age of 18. He was appointed Canon of the Vatican Basilica by Urban VIII. Coadjutor of his father as Consistorial Advocate. Auditor General of Cardinal Francesco Barberini. Auditor of Cardinal Barberini as Prefect of the Two Signatures. Auditor of the Sacred Roman Rota (1639-1669). Dean of the Sacred Roman Rota (1669). During the plague of 1656 he was one of three prelates assigned to provide aid to the City of Rome. Bishop of Ferrara (1670-1690) [Ughelli-Colet, Italia sacra 2, 562]. Legate in the Duchy of Urbino (1670-1672), residing in Pesauro where he endured the earthquake of April 14, 1672. He died in Rome on May 14, 1690, and was buried in the family tomb in the Gesù [V. Forcella, Inscrizioni delle chiese di Roma 10, p. 481 no. 798]. [Ciaconius-Olduin IV, 792]
Gasparo Carpegna (aged 64) [Romanus], Cardinal-Priest of S. Maria in Trastevere (1689–1698). Subsequently Bishop of Sabina (died April 6, 1714). Vicar General of Rome
César d'Estrées (aged 58) [France], son of François-Annibale, Duc d'Estrées, Marshal of France; and Marie de Bethune-Selles. [Born in Rome, son of the then Ambassador Extraordinary of France before the Holy See]. Cardinal Priest of Santissima Trinità al Monte Pincio (1675–1698). Member of the Academie Française (1657). Bishop of Laon (1653-1681), consecrated in September, 1655; he resigned the see to his nephew, when he was appointed Chargé d'affaires by Louis XIV to go to Rome to negotiate about the regalia. He succeeded his brother as Ambassador to the Pope in 1687. Subsequently Bishop of Albano (1698-1714). (died December 18, 1714, in Paris in the Abbey of S. Germain).
Pierre de Bonzi (aged 59) [Florence], son of Conte Francesco Bonzi, senator of Florence, who was attached to Marie de Medicis; and Christina Riario. Conte Francesco was Resident of the French King in Mantua. Pierre's uncle Clement was made Bishop of Beziers (1632-1659) through Queen Marie's influence [Gallia christiana 6, 375-376]. In 1659 he succeeded his uncle as Bishop of Beziers (1659-1671) [Gallia christiana 6, 376]. Grand Duke Ferdinand II of Tuscany made Pierre resident agent at the French court, where he arranged the marriage of Marguerite Louise, daughter of Gaston, Duke of Orleans, and Grand Duke Cosimo III (1661). In 1662 he was sent by the King of France as ambassador to Venice. In 1665 Louis XIV, satisfied with his work, appointed him Ambassador to Poland. He returned in 1669, and was made Ambassador Extraordinary to Spain. Bishop of Toulouse (1671-1673). Archbishop of Narbonne (1673-1703) [Gallia christiana 6, 123; Michaud, Louis XIV et Innocent XI III, 139-147]. Cardinal Priest of S. Onofrio (1676–1689), at the nomination of the King of Poland. (died July 11, 1703)
Vincenzo Maria Orsini de Gravina, OP (aged 40) [Neapoolitanus, but born in Rome], born Pietro Francesco Orsini, eldest son of Ferdinando Orsini, Duca di Gravena, and Joanna Francesca Frangipani di Tolsa. Cardinal Priest of S. Sisto (died February 21, 1730). Archbishop of Benevento. Subsequently Bishop of Frascati, then Porto, and then Rome.
Federico Baldeschi Colonna (aged 63) [Romanus], Cardinal Priest of S. Anastasia (1685–1691) (died October 4,1691) [Left the Conclave on June 29]
Francesco Nerli (aged 53) [Florence], Cardinal Priest of S. Matteo in Merulana (1673–1704). He had studied philosophy in Rome, and Civil and Canon Law in Siena, and received his Doctorate in utroque iure at Pisa. In 1638 Alexander VII made him a Referendary and one of the Abbreviatores de parco maiori in the Apostolic Chancery. In 1666 he was named vice-Legate in Bologna. Clement IX made him a voting member of the Apostolic Segnatura. Clement X made him a Canon of the Vatican Basilica. Archbishop of Florence (1670-1682), and Nuncio to Vienna and Poland. Nuncio in France (1672-1673). He was named cardinal on June 13, 1673, and presented with the red biretta by Maria Theresa. Secretary of State (1673-1676). Bishop of Assisi (1685-1689). (died April 8, 1708).
Girolamo Casanate (aged 69) [Naples], Cardinal Priest of Ss. Nereo ed Achilleo (1686–1689). Doctor in utroque iure (Naples); he practiced as a lawyer. He became the protegé of Giovanni Battista Cardinal Pamfilj, who had been Nuncio to the Court of Naples from 1621-1625, and who convinced Girolamo's father, during a diplomatic visit to Rome, to allow his son to take up the ecclesiastical profession. When Pamfilj became Pope Innocent X in 1644, Casanate was named Chamberlain of Honor. Governor of Sabina. Governor of Fabriano and Camerino. Under Alexander VII he was governor of Ancona. From 1658 to 1662 he was Inquisitor at Malta. He was Governor of the Conclave after the death of Alexander VII (1667). He was created Cardinal deacon by Clement X on June 12, 1673; who also appointed Casanate Assessor at the Holy Office. Clement XI appointed him Secretary of the SC of Bishops and Regulars. Innocent XII named him S.R.E. Bibliothecarius after the death of Cardinal Lorenzo Brancati [Lauria] (December 1, 1693). Cardinal Casanate died on March 3, 1700, at the age of 80, and was buried in the Lateran Basilica [V. Forcella, Inscrizioni delle chiese di Roma 8, p. 72 no. 194].
Galeazzo Marescotti (aged 61) [Romanus], Cardinal Priest of SS. Quirico e Giulitta (1681–1700). Doctor in utroque iure. Governor of Fano. Appointed Inquisitor of Malta by Alexander VII. Appointed Assessor at the Holy Office on May 26, 1666 by Alexander VII. Appointed Legate in Ferrara by Clement X. Titular Archbishop of Corinth (1668-1675). Nuncio to Poland (1668-1670). Appointed Nuncio to Spain (1670-1675) by Clement X. Bishop of Tivoli (1679-1690). Named Prefect of the Holy Inquisition (1700-1716) by Pope Clement XI. Cardella notes that he resigned all his functions in 1715. He died on July 3, 1726, at the age of 98, and was interred in the Gesù [V. Forcella, Inscrizioni delle chiese di Roma 10, p. 486 no. 813]. [Guarnacci I, 73-76; Cardella VII, 230-231].
Fabrizio Spada (aged 46) [Romanus], Cardinal Priest of S. Crisogono (1689–1708). Subsequently Bishop of Palestrina (died June 15, 1717). Doctor in utroque iure (Perugia).
Philip Thomas Howard of Norfolk and Arundel, OP (aged 59) [born September 21, 1629, at Arundel House, London, England], third son of Henry Frederick Howard, third Earl of Arundel, and Elizabeth Stuart, daughter of Esme, Lord d'Aubigny (later Duke of Richmond and Lennox). Cardinal Priest of S. Maria sopra Minerva (1679–1694). He and his brothers studied briefly at Cambridge, then at Utrecht and Antwerp. Having fled from England on the announcement of his Catholic belief, he became a Cavalry officer, at the age of 16, for the Duke of Savoy. Desiring a quiet life, however, in 1645 he became a Dominican novice at Cremona. His relatives, the Duke of Savoy, the Cardinal Archbishop of Milan and other cardinals of the Papal Court attempted to reverse his decision—but without success. The Pope then referred his case to the cardinals at the SC de propaganda fide, and summoned Howard to Rome to undergo his novitiate. He spent five months with the Oratorians, where the truth of his vocation was tested. The Pope, satisfied, gave the Vicar General of the Dominicans, Domenico Marini, permission to admit Howard to solemn profession in the Order at the Convent of S. Sisto. He was 17. He continued his studies in Naples, at the Convent of S. Maria della salute, and then at Rennes in Brittany. He was ordained priest at the age of 22, thanks to a papal dispensation. He founded a monastery in honor of the Virgin Mary at Bornheim in East Flanders, and was appointed the first Prior on December 15, 1657. When the monarchy was restored in England he was summoned home to negotiate the marriage of King Charles and Catherine of Braganza, whose Almoner he became. He was also her Chaplain and in charge of her Oratory. He lived at St. James' Palace, where he dined with Samuel Pepys (Diary III, 47-49). The Pope, badly advised by the zelanti at the Propaganda, who insisted that England was eager to return to the Roman obedience, made Howard his Vicar Apostolic in England and titular Bishop of Helenopolis. At the request of King Charles II, however, who knew much better than the Propaganda what the feeling of Englishmen was, the bulls were never published and Howard was never consecrated. Protestants, however, were aroused anyway. In 1674, the violence of anti-Catholic feeling in England caused Howard to flee to Bruxelles. When he had to travel to France to confer with his Father General, he learned that the Pope had appointed him a cardinal (on May 27, 1675). In Rome, he took up residence in the Monastery at Santa Sabina. Archpriest of the Liberian Basilica (S. Maria Maggiore) (1688-1694), taking possession on July 2, 1689 [Avvisi italiani, ordinarii, e straordinarii no. 58, 21 Luglio 1689 (dispatch of July 2)] . Protector of Great Britain (until Innocent XI was persuaded by the Jesuits, who were far more eager than the Cardinal to reconquer England for the Church, to replace Howard). He died on June 17, 1694, and was buried at the Minerva, the principal Dominican convent in Rome [V. Forcella, Inscrizioni delle chiese di Roma I, p. 505, no. 1946 and 1947]. See the Dictionary of National Biography 28 (London 1891) 54-57 [by Thompson Cooper; Isaacson's biography in The Story of the English Cardinals is nothing but a crib of the DNB article].
Giovanni Battista Spinola (aged 76) [Genoa], Cardinal Priest of S. Cecilia (1681–1696). Former Archbishop of Genoa (1664-1681); previously Archbishop of Acerenza and Matera (1648-1664). Doctor in utroque iure. He died on January 4, 1704, at the age of 88.
Antonio Pignatelli del Rastrello (aged 74) [Naples], Cardinal Priest of S. Pancrazio (1681–1691). Inquisitor of Malta (1646-1652); Nuncio to Warsaw; Nuncio to Vienna (1658-1664); Archbishop of Naples (1687-1691). Doctor in utroque iure (Rome). In 1691 he was elected Pope Innocent XII.
Savo Millini (aged 45) [Romanus], Cardinal Priest of S. Maria del Popolo (1686–1689) Bishop of Orvieto. (died February 10, 1701). Doctor in utroque iure (Rome, Sapienza)
Federico Visconti (aged 72) [Milan], Priest of SS. Bonifacio ed Alessio (1681–1693). Archbishop of Milan (1681-1693). Doctor in utroque iure (Pavia) He died on January 7, 1693.
Raimondo Capizucchi, OP (aged 74) [Romanus], formerly Magister Sacri Palatii Apostolici (1673-1681). Cardinal Priest of S. Maria degli Angeli (1687–1691). (died on April 22, 1691) His praecordia were buried at the Minerva [V. Forcella, Inscrizioni delle chiese di Roma I, p. 505 no. 1944].
Francesco Lorenzo Brancati di Lauria [de Lauraea], OFM Conv. (aged 77) [Siena], Cardinal Priest of Ss. XII Apostoli (1681–1693). (died November 30, 1693). S.R.E. Bibliothecarius [his letter of appointment, September 19, 1681, is given by G. Ciampini, Examen Libri Pontifici (Romae 1688), 96-97]. Professor of philosophy, lecturer in Theology.
Giacomo de Angelis (aged 78) [Pisa]. Cardinal Priest of S. Maria in Ara Coeli (1686–1695). He was Abbot Commendatory of the Abbey of Nonantola (1687-1695). (died September 15, 1695) Doctor in utroque iure (Pisa)
Opizio Pallavicino (aged 57) [Genoa], Cardinal Priest without title. Later Cardinal Priest of S. Martino ai Monti (1689–1700). (Died February 11, 1700). Doctor in utroque iure. Utriusque signaturae referendarius. Titular Latin Archbishop of Ephesus (1668). Extraordinary Nuncio to Cologne. He had been Nuncio in Poland when created cardinal on September 2, 1686. Bishop of Spoleto (1689-1691) [Ughelli-Colet I,1272].
Marcantonio Barbarigo (aged 49) [Venice], Cardinal Priest of S. Susanna (1686–1697). Bishop of Montefiascone e Corneto (1687-1706). Archbishop of Corfu (1682-1686). Doctor in utroque iure (Padua). (died May 26, 1706)
Carlo Stefano Ciceri (aged 72) [Como, born in Milan], Cardinal Priest of S. Agostino (1687–1694). Referendary of the Two Signatures, Vice-Legate of Ferrara, Governor of Civita Castello, Spoleto and Campania Maritima; Voting Member of the Signature of Justice; Bishop of Alessandria (1659-1680) [Ughelli-Colet, Italia Sacra 4, 326]. Bishop of Como (1680-1694). Doctor in utroque iure (Pavia). He died on June 24, 1694, and was buried in the Cathedral at Como [Guarnacci I, 229-232; Cardella VII, 277].
Leopold Karl von Kollonitz (Lipot Kollonics) (aged 58) [German], Cardinal Priest without titulus. Later Cardinal Priest of of S. Girolamo dei Schiavoni/Croati (1689–1707). Bishop of Györ, then Administrator of the Diocese of Györ (1686-1695) [Gams, 371]. Bishop of Wiener Neustadt (1670-1686). Bishop of Nitra (1666-1670) [Gams, 376]. Knight of Malta. (died January 20, 1707).
Pier Matteo Petrucci, Orat. (aged 52) [Aesina (Jesi)] Cardinal Priest of S. Marcello. Doctor in utroque iure (Macerata). He was a friend of Cardinal Alderano Cibo, who had been Bishop of Jesi (1656-1671). In 1661 he joined the Oratory, and by 1679 he had become Praepositus superior. In 1681, Pope Innocent XI made him Bishop of Jesi (1681-1696). He was named a cardinal in 1686. He had unfortunately written a number of popular pietistic works, but these were touched with the heresy of Michele Molini and were consequently condemned by the Inquisition and placed on the Index of Prohibited Books; he recanted and asked that his books be burned [Guarnacci, 248]. (died July 5, 1701).
Wilhelm Egon von Fürstenberg (aged 59), Cardinal Priest without titulus. Later Cardinal Priest of S. Onofrio (1689-1704). (died April 10, 1704). Bishop of Strasbourg (1682-1704) [Gams, 316]. Bishop of Metz (1663-1668) [Gams, 298] by imperial appointment, he fell into disfavor with Leopold I, and switched his allegiance to the French. He was nominated to Bishopric of Strasbourg, and then to the cardinalate by Louis XIV. But at the beginning of August, 1689, he had fallen into disgrace with the King of France, and had been ordered to retire to Avignon. Arrived on September 27, 1689.
Jan Casimir Dönhoff (Denhoff) (aged 40) [Poland], Priest of S. Giovanni a Porta Latina (1686–1697). He was sent to Rome by King John III Sobieski to induce Innocent XI to enter into an alliance against the Ottoman Turks. Innocent admitted him to the Curia, and made him Custodian of the Hospital of S. Spirito in Sassia in 1680. In October of 1686 he was named Bishop of Cesena. He died on June 20, 1697.
José Sáenz de Aguirre (Giuseppe d'Aghirro), OSB (aged 59) [Spanish], Cardinal Priest of S. Balbina (1687–1694). Abbot of S. Victor in Salamanca. Doctor of Theology (Salamanca). Lector in Theology at Salamanca. Master General of the Spanish province of the OSB. A Councillor of the Spanish Inquisition. He wrote a four volume work on the Councils of the Spanish Church and the New World. He came to Rome, and in 1683 published a work entitled De Cathedra Divi Petri, defending the authority of the Holy See and the infallibility of the pope against the declarations of the Gallican Articles of 1682. Pleased by his efforts, Innocent XI raised him to the cardinalate in 1686. Nonetheless, he and Cardinal Colloredo opposed vocally in Consistory the proposal to elevate Forbin Janson to the cardinalate. He was Protector of the Kingdom of Sicily. (died August 19, 1699)
Leandro di Colloredo, Orat. (aged 50) [Friuli], Cardinal Priest Priest of S. Pietro in Montorio (1686-1689). (died January 11, 1709). Maior Penitentiarius. [Guarnacci I, columns 269-272; Cardella 7, 290-295].
Fortunato Caraffa della Spina (aged 58) [Naples], Cardinal Priest of SS. Giovanni e Paolo (1687–1697). Bishop of Aversa (1687-1697). [Ughelli-Colet Italia sacra I, 495]. He died in Naples on January 16, 1697.


Francesco Maidalchini (aged 68) [of Viterbo], nephew of Olimpia Maidalchini, wife of Innocent X's brother. Cardinal Deacon of S. Maria in Via Lata (1666-1689). (died June, 1700). [At the Conclave of 1676 he had already been Cardinal Protodeacon]
Niccolò Acciaioli (aged 59) [Florence], Cardinal Deacon of SS. Cosma e Damiano. Later Cardinal Priest of S. Callisto (1689–1693) (died February 23, 1719) Doctorate in Law (Rome)
Urbano Sacchetti (aged 49) [Romanus], Cardinal Deacon of S. Nicola in Carcere (1681–1689). Bishop of Viterbo and Toscanella (1683-1699). (died April 6, 1705).
Gianfrancesco Ginetti (aged 63) [Romanus, Velitrensis], Cardinal Deacon of of S. Angelo in Pescheria (1682–1689). Archbishop of Fermo. Former Treasurer General of the Apostolic Camera by appointment of Clement X, and Prefect of the Castel S. Angelo by appointment of Innocent XI. He had begun his career under Alexander VII, who appointed him Cleric of the Apostolic Camera. He died on September 18, 1691 at the age of 66. His funeral inscription is in S. Andrea della Valle [V. Forcella, Inscrizioni delle chiese di Roma VIII, p. 272, no. 684].
Benedetto Pamphili, O.S.Io.Hieros. (aged 36) [Romanus], Cardinal Deacon of S. Agata alla Suburra (1688–1693) (died March 22, 1730). Legate in Bologna.
Domenico Maria Corsi (aged 51 or 56) [Florence], (died November 6, 1697). Cardinal Deacon of S. Eustachio (1686-1696). Bishop of Rimini, Legate in Romandiola.
Giovanni Francesco Negroni (aged 60) [Genoa], Cardinal Deacon of S. Cesareo in Palatio (1686–1696). Bishop of Faenza (1687-1697). (died January 1, 1713). [He left the Conclave because of illness on October 4, 1689]
Fulvio Astalli (aged 34) [Romanus]. Cardinal Deacon of S. Maria in Cosmedin (died January 14, 1721) Nephew of Cardinal Francesco Maidalchini.
Gasparo Cavalieri (aged 41), Cardinal Deacon of S. Maria in Aquiro (1686-1689) Archbishop of Capua (1687-1690). (died August 17, 1690). [Both the privilegium for the conclavists and the motu proprio for the dapiferi gives him the Deaconry of S. Giorgio in Velabro]
Francesco Maria de' Medici (aged 29) [Florence], son of Ferdinand II, Grand Duke of Tuscany, and Vittoria Della Rovere. Cardinal Deacon of S. Maria in Domnica (died February 3, 1711). Brother of the Grand Duke of Tuscany, who was married to an Austrian Archduchess. Protector of Austria [Conjectures politiques, 49]. Representative of the King of Spain. He entered Conclave on the morning of Tuesday, September 13.
Rinaldo d'Este (aged 34) [Modena]. Son of Duke Francesco I and Lucrezia Barberini; his sister Mary of Modena was married to King James II of England. Cardinal Deacon of S. Maria della Scala (1688-1695). He resigned from the Cardinalate in 1695 in order to procreate another d'Este, which he succeeded in doing. He died in 1737.


Francesco Buonvisi (aged 60) [Lucca], Cardinal Priest without titulus. Later Cardinal Priest of S. Stefano al Monte Celio (1689–1700) Titular Bishop of Thessalonike. Nuncio in Poland, then in Austria. Doctor in utroque iure (Rome, Sapienza)
Ludovicus (Luis) de Portocarrero (aged 55), Cardinal-Priest of S. Sabina (1670–1698) Later Suburbicarian Bishop of Palestrina (died September 14, 1709) Archbishop of Toledo. Spanish Minister of State.
Verissimo de Alencastro [Lencastre] (aged 73) [Lisbon, Portugal]. Cardinal Priest without titulus. (died December 12, 1692). Doctor in utroque iure (Coimbra). Inquisitor General of Portugal and the Azores (1679-1692).
Marcello Durazzo (aged 54) [Genoa], Cardinal Priest without titulus. Later Cardinal Priest of S. Prisca (1689–1701). Nuncio in Spain before his creation as cardinal. (died April 27, 1710). Bishop of Carpentras (1687-1690). Doctor in utroque iure (Perugia). [omitted in both the privilegium for the conclavists and the motu proprio for dapiferi]
Angelo Maria Ranuzzi (aged 63), Cardinal Priest without titulus (died September 27, 1689) Archbishop of Bologna (1688-1689) He was Nuncio in France, and was on his way back to Rome; he had left Paris on August 5, but he died at Fano, during the Conclave, on September 27, 1689. At the time of his death he was under active consideration as papabile. [omitted in both the privilegium for the conclavists and the motu proprio for dapiferi]
Augustyn Michal Stefan Radziejowski (aged 43), [born in the County of Radziejicowice, his family's fief]. Cardinal Priest without titulus. Later Cardinal Priest of S. Maria della Pace (1689–1705). He had studied at the Sorbonne, but took his doctorate in Rome. Returning to Poland, he became a Canon in the Cathedral of Krakow. With the support of King John III [Johann Wolfgang Jaeger, Historia ecclesiastica cum parallelismo profanae. Tomus II, pars 2 (Hamburg 1717), Lib. 5, cap.5, p. 292], his maternal uncle, he became Latin rite BIshop of Kiev, then of Ermland (Warmia) in Prussia (1679-1687) [Gams, 359], and finally Archbishop of Gniezno and Primate of Poland (1687-1705) [Gams, 348]. Regent of Poland 1703-1704. (died October 11, 1705).
Etienne Le Camus (aged 49) [France], Cardinal Priest without titulus. Later Cardinal Priest of S. Pietro in Montorio (1689–1696). Doctor of Theology (Sorbonne) Almoner to the King of France. Bishop of Grenoble (1671-1707) [Gallia christiana 16, 256-257]. He opposed the Gallican Articles in 1682, bringing upon himself the enmity of Louis XIV. But, in consideration of his defense of the rights of the Church and the Papacy, Innocent XI named him cardinal in 1686— but without consulting Louis XIV [Michaud, Louis XIV et Innocent XI III, pp. 124-125; Cardella VII, 280]. He was appointed to the Congregations of Bishops and Regulars, the Council, and the Propaganda. (died September 12, 1707).
Johannes von Goes [Goessen] (aged 77) [Bruxelles, Flandre], Cardinal Priest (1686) without titulus. Later Cardinal Priest of S. Pietro in Montorio (1689-1696). In 1664, after the Battle of S. Gotthard, he successfully negotiated the peace between the German Emperor and the Ottoman Turks, for which he was appointed Bishop of Gurk (1675-1696). He also successfully negotiated a peace with France at Nijmagen. In consideration of that service, the Emperor insisted that Pope Innocent XI make Goes a cardinal. When he became a cardinal he was made Imperial Orator before the Holy See. (died October 19, 1696). [He arrived too late to participate in the Conclave of 1689]
Pedro de Salazar (aged 59) [Spain], Cardinal Priest of S. Croce in Gerusalemme (1689-1706). Bishop of Córdoba (1686-1706). Bishop of Salamanca (1681-1686). He was named cardinal at the request of the King of Spain. When he came to Rome for the Conclave following the death of Alexander VIII, he was appointed Orator of the King of Spain, but he clashed with the resident Orator, the Duke of Medina Caeli, and therefore returned to Córdoba. (died August 15, 1706).



Conclave
The ceremonies of the Enclosure of the Conclave took place on Tuesday, August 23. On Wednesday morning, August 24, the Cardinals began with a Mass of the Holy Spirit, sung by Cardinal Bichi, in the Sistine Chapel. They then settled down to their first scrutiny, which also took place in the Sistine Chapel [Distinto Ragguaglio dell essequie p. 6]. All of the papal bulls pertaining to Conclaves were read, and copies were distributed to each Cardinal. Cardinal Ottoboni entered the Conclave, having been unwilling to face the noise and confusion of the preceding day; he was greeted loudly by his supporters, which made some wonder whether the Pope was not arriving.
The creature of Alexander VII (1655-1667), were gathered behind the leadership of Cardinal Chigi: Antonio Bichi, Giacomo Franzoni, Gregorio Barbarigo, Giannicolò Conti di Poli, Giulio Spinola, Giovanni Delfino, and Paluzzo Altieri. Paluzzo had his own group, the creature of his adopted uncle Clement X (1670-1676), which included Benedetto Pamphili, Fulvio Astalli, and also Gaspar Carpegna, Vinzenzo Maria Orsini, Frederico Colonna, Francesco Nerli, Girolamo Casanate, Galeazzo Marescotti, Fabrizio Spada, and Philip Thomas Howard. They are said to have tended in the direction of the French interest. If Chigi and Paluzzo Altieri could remain united, they could determine the direction of the pratticà.
The creature of Innocent XI comprised the largest bloc in the Conclave, numbering twenty-six—but they included several Germans, several Florentines, and a few Genoese, two Venetians and two Neapolitans. They were under the direction of Don Livio Odescalchi, but he was not a cardinal, and without a leader cohesion could not be expected. National connections would tend to pull them in different directions. Nonetheless, trusting to his prestige and numbers, Don Livio expected to be the Great Elector, whose cardinals would elect the next pope. This was exactly what his uncle had tried to persuade him not to attempt.
The creature of Clement IX (1667-1669) were few in number: Cardinal de Bouillon, Carlo Cerri and Niccolò Acciaioli—but, because of the death of the two Rospigliosi cardinals, they were at liberty.
it must be granted, however, that the classification of cardinals according to the pope who created them is not a reliable guide to voting habits. Regional loyalty and discipline, especially French, Spanish, Venetian, and Neapolitan, often outweighs loyalty to a papal family. Some cardinals were given red hats at the request of some government, and were expected to serve their interests. Furstenburg, former Bishop of Strasbourg and former coadjutor Archbishop of Cologne, for instance, though a German, had been appointed at the request of Louis XIV. Some cardinals had pensions (retainers) from various governments, as well as benefices, and were expected to favor the interests of those governments.
The Hapsburg interest was much diminished by the tiny number of cardinals and the absence of one of them; in fact the Emperor was being represented inside the Conclave by Francesco Maria Cardinal de' Medici, the younger brother of Duke Cosimo III of Tuscany and Protector of Austria and Spain. The Emperor Leopold provided him with a list of twenty-one acceptable soggetti (Bischoffshausen, 16-17), which was not much of a help in guiding him toward a candidate. As Ambassador Extraordinary, the Emperor Leopold appointed Prince Anton Florian von Lichtenstein [Bischoffshausen, 13-14], whose mission extended beyond the conclave to the obtaining of additional subsidies for the war against the Turks. The Turks had been stopped at the walls of Vienna in 1683 by an allied army led by King John III Sobieski of Poland-Lithuania. They had been driven out of Hungary (1686) and Belgrade had been liberated (1688). But the situation in the Balkans was still extremely grave. and it was essential to continue the crusading spirit.
Throughout September, Cardinal d'Estrées had been trying systematically to delay the proceedings in the Conclave until the French contingent should arrive. On September 19, the Spanish Ambassador, the Marquis de Cocolludo, remarked in a letter to Cardinal de' Medicis, the brother of the Grand Duke of Tuscany and Spanish agent inside the conclave [Petruccelli III, 315 n.1]:
On attribue la cessation de toutes les tractations au cardinal d'Estrées, qui demande que l'on ne fasse rien jusqu'à ce qu'arrivent les cardinaux français et le duc de Chaulnes, qui sont el Espiritu Santo en que el conclave quiere que creamos todos.
Cardinal d'Estrées, in fact, had information from France. He had received a packet of letters from Versailles, written on August 24, 1689 (the Pope had died on the 12th), informing him that the three French cardinals and the Duke de Chaulnes had departed for Rome. He presented the letter to the General Congregation, and thoughtfully had the Secretary of the Conclave pass around to the Cardinals an Italian translation, whereupon d'Estrées gave a graceful address praising the zeal and piety of Louis XIV, which was demonstrated by His Majesty's sending an extraordinary ambassador who was. like a dove, bearing the olive branch of peace. That speech, and the rumor that the French would be debarking at Livorno at any time, decided many of the Cardinals to wait for the arrival of the French. The longer the delay, however, the greater was the criticism endured by Cardinal d'Estrées.
As late as September 12, according to the Marquis d'Orsy in his report to the Duke of Modena, there had been no movement. People were waiting for the French, and one candidate after another was proposed only to be discarded—as expected [Petruccelli III, 335]. As Cardinal Medici certainly knew, there was a right moment for a candidate, before which one should negotiate and temporize. He did not want to drive d'Estrées or anyone else into using a veto on Ottoboni. On September 20, Medici wrote to the Spanish Ambassador, "Il n'y a ni obligation ni promesse d'attendre les Français. La nature des négociations l'exigue ainsi. Ottoboni va bien. Ceux qui le favorisent n'ont pas voulu l'endommager par la précipitation, et pousser d'Estrées a lui opposer un obstacle irréparable, l'exclusion, obligé qu'il est d'attendre ses compatriotes." [tr. Petruccelli III, 335] But to test the sentiments of the cardinals on the subject of a Venetian pope (Ottoboni), his friends decided to work by indirection. The friends of Cardinal Chigi proposed a Venetian, but it was Cardinal Gregorio Barbarigo rather than Ottoboni. Barbarigo, later made a saint by the short-cut method of John XXIII, was known as a good theologian but a with strict and uncompromising personality, a thorougoing Zealot. He managed to obtain twenty-nine votes, though Chigi and his group withheld their support. A Venetian was indeed a possibility, though Barbarigo could muster no additional votes for his candidature. Something else, however, came to light. Some of the Odescalchi group (the creature of Innocent XI) had participated in the little experiment with Barbarigo, while others had been unaware. When the maneuvre concerning Barbarigo became common knowledge, not only did it cause considerable indignation in the Sacred College, it split the Odescalchi group. And yet, since Chigi and the known friends of Ottoboni had not taken part, saying publicly that they were observing their agreement to wait for the French cardinals to arrive, there was no damage to the Ottoboni candidacy.
A letter written on September 27 by the envoy of Savoy recounts that the French were already known to have passed Livorno, where there had nearly been a battle when thirty-eight galleys, under the command of the Duc de Noailles and carrying the Duc de Chaulnes and the French cardinals, because the Governor of Livorno had not given a salute to the French flag. The galleys finally reached Civitavecchia and the passengers were on their way to Rome by land.
On September 27, Chaulnes' associate, the Marquis de Torny, wrote to his father, who was a Secretary of State for foreign affairs, that Cardinal Ottoboni had quite a wide base of support, the Zelanti, Cardinal Delfino, and Cardinal Chigi; the creatures of Innocent XI were not hostile, and it was only the Altieri faction that was in doubt. It was also on the 27th, in the evening, that three French cardinals finally entered Conclave: Bouillon, Bonzi, and Furstenburg. Furstenburg managed to slip into the Conclave the Marquis de Choisy as his conclavist. And on September 27, at Fano, Cardinal Angelo Ranuzzi died; he had been on his way from his Nunciature in France.
Chaulnes
The Duc de Chaulnes began to make trouble immediately upon his arrival in Rome. He demanded to be admitted to the presence of the Cardinals at once, as the Ambassador of his Most Christian Majesty. A protest was immediately entered by the Duke de Cocolludo, who had been compelled by Innocent XI under oath to renounce the 'right' of extraterritoriality in Rome, and the Pope had sworn likewise not to admit any ambassador who had not also renounced 'la franchise de son quartier'; unless Chaulnes made the same renunciation, Cocolludo would repudiate his oath. [Histoire des conclaves II, supplement pp. 48-49]. It took the cardinals three days to sort out the mess, during which all progress toward the election of a pope was halted. The French Cardinals finally made formal announcement to the Sacred College that the Duc de Chaulnes, Ambassador of the French King, had arrived in Rome and was resident in the palazzo d'Estrées, and that he renounced the right of extraterritoriality. It was agreed by a vote of 44-6 that the Duc should be received at the Entrance to the Conclave. And so he was, on October 1. The reply to his address was made by Cardinal Ottoboni, who was the senior Cardinal Bishop present. He flattered France, its King, the King's Ambassador, and the French Cardinals to the best of his abilities, assuring them of the personal esteem and good will which he had toward them all. Finally, Cardinal Chigi understood, the moment had arrived to strike the deal.
The Venetians had been engaged in negotiations since before the death of Innocent XI in favor of Cardinal Ottoboni. Through their ambassadors in Madrid and Vienna they already had the agreement of the Emperor and the King of Spain. Chigi, through the discreet agency of Cardinals Colonna, Nerli, and Casanate, had managed to attract a number of votes of the Odescalchi faction. Cardinal Medici had made certain that the Imperial and Spanish factions would add their votes. But Cardinal Paluzzo Altieri and the rest of the Odescalchi faction needed to be squared, and the French were still a problem. Although the minds of the cardinal electors were already fixed on Pietro Ottoboni of Venice (subsequently Alexander VIII), it was not until both the candidate and his nephew gave undertakings that they would seek reconciliation with the French government that an election could proceed. When Paluzzo Altieri was persuaded, which was not difficult, the French were quick to jump aboard the train.

Election
Finally, after eighty days, Cardinal Pietro Ottoboni, who was 79 years of age, was elected unanimously on October 6, 1689. He took the name Alexander in honor of Alexander VII (Chigi), whose nephew had been instrumental in securing his election. He was crowned on October 16 and on October 28 took possession of the Lateran Basilica, his cathedral seat [Cancellieri, pp.303-312].
His nephew, Giambattista Rubini, Bishop of Vicenza, was made a cardinal (February 13, 1690). Another nephew, Pietro Ottoboni, was also made a Cardinal. His brother, Marco Ottoboni, married a niece of Cardinal Paluzzo Paluzzi Altieri in 1690. One of his sisters, Cornelia Zeno Ottoboni, was married to Prince Urbano Barberini third Prince of Palastrina.
Msgr. Mario Spinola was named Secretary of Briefs. and Msgr. Bandino (Bernardo) Panciatici, the Secretary of the SC for Bishops and Regulars, became Datary and Patriarch of Jerusalem. In 1690 he was created Cardinal [Moroni, Dizionario di erudizione storico-ecclesiastica 51, 93].
.


Thomas Montecatinus, Antonius Franceschettus (Procurator causae), Prosper Lambertini (Fidei Promotor), and Ioannes Zuccherinius (Subpromotor fidei), Beatificationis et Canonizationitionis ven. servi Dei Innocentij Papae Undecimi Positio super Dubio an sit Signanda Commissio introductionis Causae in Casu (Romae: Typis Reverendae Camerae Apostolicae 1713).
R. Ritzler and P. Sefrin (editors), Hierarchia catholica V (Patavii 1952), p. 15.
F. De Bojani, Innocent XI, sa correspondance avec ses nonces II (Rome 1910) pp. 467-479; III (Roma 1912).
M. Dubruel, "Innocent XI et l'extension de la régale d'après la correspondance confidentielle du cardinal Pio avec Leopold Ier," Revue des questions historiques, n.s., XXXVII (1907), pp. 101-137
.