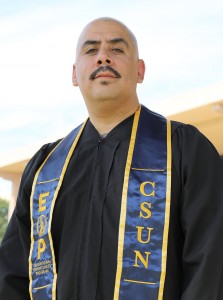 CSUN graduate student Albert Martinez, an alumnus of the EOP Valera Resilient Scholars Program, was named a Newman Civic Fellow for 2021. Photo courtesy of EOP.
The University Student Union Board of Directors Vice Chair Albert Martinez joins the 2021 cohort of Newman Civic Fellows following his nomination by CSUN President Erika D. Beck in this feature from CSUN Today.
Fellows are recognized as community-committed students who display a dedication to social change. Throughout the year, this opportunity will allow Vice Chair Martinez the ability to engage with a national network of student leaders who can continue to build bridges between campus and communities while creating positive change for the future. 
Learn more about the USU Board of Directors, how you can get involved as a student leader, and its positive impact on the CSUN community by visiting the BOD webpage.