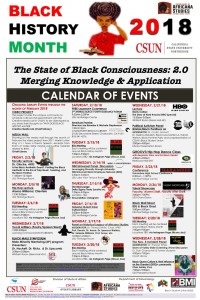 Once a year, the African-American community looks forward to the 28 days of February to recognize achievements, and celebrate historical contributions of the too-often neglected accomplishments of African-Americans throughout our nation's history.
In honor of Black History Month, California State University, Northridge's festivities will officially kick off with Africana studies professor Aimee Glocke's lecture, "Is the Black Aesthetic Dead? Posting the Black Aesthetic in the Era of Trap Music, Twerking and The Black Panther," on Friday, Feb. 2, at 11 a.m. in the Flintridge Room of the University Student Union (USU) on the east side of the campus at 18111 Nordhoff St. in Northridge.
The theme of this year's celebration is "State of Black Consciousness 2.0: Merging Knowledge and Applications." The theme focuses on the generational consciousness — the concept of one generation trying to understand the previous generation's plight to empower students of all ethnicities and generations to overcome adversities.
See the full story at CSUN Today!