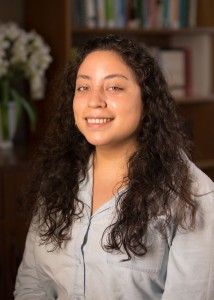 Shawntel Barreiro has known since she was in ninth grade that she wanted to be a linguist, and she has worked hard to fulfill that dream since. She will be graduating later this month from California State University, Northridge with bachelor's degrees in linguistics and Chicana and Chicano studies, and full funding to complete her doctorate in linguistics at The Ohio State University.
But before all that Barreiro is one of nearly 2,500 graduates invited to take part in CSUN's Honors Convocation at 6 p.m. on Saturday, May 12. The ceremony recognizes the graduating students for their academic and personal achievements.
Barreiro has been named this year's Wolfson Scholar, the top honor given to a graduating senior. It is presented each year in memory of CSUN's first vice president, Leo Wolfson. Not only must the student have an exceptional academic record, but he or she must also have made significant contributions to CSUN or to the community through co-curricular and extracurricular activities.
Barreiro, 22, a first-generation college student and the daughter of immigrants from El Salvador, said she was flattered to receive the honor and grateful for the opportunities CSUN has provided her, including setting her firmly on her career path.
"I was in my first introductory course in linguistics, and we started off with looking at the basics of linguistics and it was fun," she said. "But then we started talking about sociolinguistics — the relationship between social issues and language, how language can affect society — and I was like 'This is what I want to do. This is what I want to study.'"
Barreiro discovered the field of linguists while a freshman in high school while struggling in a French class.
"Then I realized that there were similarities between French and Spanish," she said, adding that as a native Spanish speaker she was interested in exploring the relationship between the two languages. That curiosity led her to the field of linguistics, the science of language, and "I knew what I wanted to do with my life," she said.
With an eye on getting a doctorate in sociolinguistics, Barreiro, who commuted to Northridge from her home in South Central Los Angeles, devoted the past five years at CSUN to studying and taking advantage of research opportunities. As a student in CSUN's BUILD PODER program, a research training program supported by a $22-million, five-year grant from the National Institutes of Health, she helped child and adolescent development professor Emily Russell examine how language background affects child language acquisition.
After a year with BUILD PODER, she became part of the inaugural cohort of CSUN's HSI Pathways to the Professoriate — which, in partnership with the University of Pennsylvania and supported by a $5.1 million grant from the Andrew W, Mellon Foundation — aims to prepare undergraduates in the humanities and related fields for admission to a Ph.D. program. Under the guidance of linguistics professor David Medeiros, a mentor in the HSI Pathways Program​, Barreiro conducted her own research about the use of Salvadoran-Spanish in Los Angeles and Washington D.C. Research she credits with helping her get into the doctoral program at Ohio State University.
She spent the summer of 2016 working on a linguistics research project at Yale University as part of a summer undergraduate research fellowship program.
Barreiro, who is graduating summa cum laude with a 3.97 GPA, is looking forward to studying at Ohio State, and a version of winter she has never experienced.
"I am looking forward to a real winter, with snow, blizzards or rain," she said. "Whatever it is, I am ready for it."
Barreiro would like to eventually teach at a university and serve as a role model and mentor to her students "in the way people here at CSUN did for me."
"I don't want to be defined by my degree," she said. "I know that it is truly an honor to be able to get a Ph.D. What I hope to do is inspire people who come from my community, whether is South Central Los Angeles or the Salvadoran community. I don't want to be a researcher who sits in an office who views the community from afar. I want to be able to work first-hand with communities so that their own narratives and sense of agency directly inform my research."
This story was written by Carmen Ramos-Chandler and produced by CSUN Today.